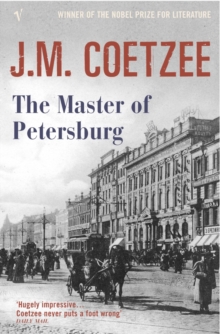 Master of Petersburg
Paperback
Description
WINNER OF THE NOBEL PRIZE FOR LITERATURE 2003In The Master of Petersburg J.
M. Coetzee dares to imagine the life of Dostoevsky. Set in 1869, when Dostoevsky was summoned from Germany to St Petersburg by the sudden death of his stepson, this novel is at once a compelling mystery steeped in the atmosphere of pre-revolutionary Russia and a brilliant and courageous meditation on authority and rebellion, art and imagination.
Dostoevsky is seen obsessively following his stepson's ghost, trying to ascertain whether he was a suicide or a murder victim and whether he loved or despised his stepfather.
Information
Format: Paperback
Pages: 256 pages
Publisher: Vintage Publishing
Publication Date: 02/09/2004
ISBN: 9780099470373
Free Home Delivery
on all orders
Pick up orders
from local bookshops
Reviews
Showing 1 - 3 of 3 reviews.
Review by siew
16/06/2015
I've had to reflect on this for a few days before posting my final thoughts and review, because, as with all other Coetzee books, there is a lot to absorb, and mostly the right words to use are as evasive as the author (master) himself.Quite simply, this is a tale spun from loose threads of Fyodor Dostoevsky's life. Coetzee's Dostoevsky is a broken man, returning to Petersburg from exile to put to rest his recently deceased step-son Pavel. He becomes entangled with the nihilist Nechaev, who claims, to Dostoevsky's disgust, that Pavel had been an ardent admirer and friend of his. Superficially set against the doctrine of anarchy preached by Nechaev and his followers, yet bound by a reluctant fascination with the young man and his youthful fervour, Dostoevsky finds himself lost in a web of the past and present, truth and lies and self-deceit. He begins an affair with Anna, the landlady who had housed Pavel, and further involved with her willful daughter Matryona, yet another ardent, if infant, Nechaev follower.The usual slippage that I affix to Coetzee's work is present in ample quantities in The Master of Petersburg. In particular, descriptions of people, including the protagonist, delineates the wavering surface of reality. One memorable example is the unveiling of Nechaev to Dostoevsky. He is at first mistaken for a woman, tall and lithe, and, to Dostoevsky's imagination, Pavel's sometime lover. The sexual tension embedded in their touching feet further cements this idea, until Dostoevsky spies the smallpox marks underneath the heavy makeup - and the remnants of stubble. Suddenly, the alluring scent of lavender is an abomination of womanhood; the mask disintegrates and the man steps forth, appearing as what he was not, and yet being what he is.Even Dostoevsky is a mirage, even to himself. Illumination comes with Pavel's papers, when they are returned to him from the police (excepting for the condemning list of to-be-assassinated Russian personages), but also through his exploration of Pavel's world for himself - his relationship with Anna, the clashes with Matryona and Nechaev, the beggar-spy who is mysteriously murdered shortly after finding refuge in Pavel's old quarters.I did not realise this until afterwards, although in hindsight it certainly lends greater emotion to the body of the work, but Coetzee's writing of this book came soon after the death of his own son at the age of 23, in a falling accident. It struck me with all the more force, how intensely embedded into our lives are our writings, no matter how infamously reclusive we might be to the world. It is a very naked feeling, and particularly in Coetzee's case, strikes me further speechless on the subject.
Review by StuartAston
16/06/2015
Dostoevsky is summoned to St. Petersburg due to the death of his stepson. He arrives there, under a false name, to find him living in a rented room under the care of Anna Sergeyevna and her daughter Matryosha. Also he is involved with the revolutionary Sergei Nechaev and his group.All of which leads him to try and find out was his stepson killed or commit sucide. What was his stepsons thoughts about Dostoevsky and how can the great writer get over the loss, find the way to get home to Germany and his wife and leave with his sensibilities in tact.A slow book at times it can get mired in flouncy language. Cut through this through and you have a good book though be aware concentration is a must. Or you will find yourself reading the last 10 pages again just to catch what you missed.
Review by PolymathicMonkey
16/06/2015
This book was wonderful. A complex tale of personal relationships and personal struggles in the midst of death and grief. Coetzee really managed to capture the feeling of Dostoevsky and make him come alive for this fictionalized snapshot of his life.