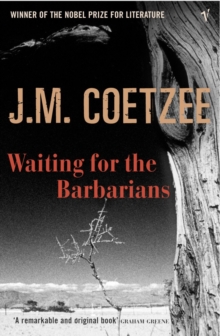 Waiting for the Barbarians
Paperback
Description
For decades the Magistrate has run the affairs of a tiny frontier settlement, ignoring the impending war between the barbarians and the Empire, whose servant he is.
But when the interrogation experts arrive, he is jolted into sympathy with the victims and into a quixotic act of rebellion which lands him in prison, branded as an enemy of the state.
Waiting for the Barbarians is an allegory of oppressor and oppressed.
Not just a man living through a crisis of conscience in an obscure place in remote times, the Magistrate is an analogue of all men living in complicity with regimes that ignore justice and decency.
Information
Format: Paperback
Pages: 176 pages
Publisher: Vintage Publishing
Publication Date: 02/09/2004
ISBN: 9780099465935
Free Home Delivery
on all orders
Pick up orders
from local bookshops
Reviews
Showing 1 - 5 of 5 reviews.
Review by Josh_Hanagarne
16/06/2015
Want to be depressed? Look no further than the entire Coetzee catalog! This book is short, but feels much longer. The reason? The deadening hopelessness of each and every page. There is some beautiful imagery--the swarm of bees--and some flat out gorgeous writing, but each are used to tell a bleak and ultimately numbing tale of woe. No one will ever accuse Cotezee of being a Pollyanna. But has a Nobel Prize winner has ever been called optimistic? This book could be great friends with The Bluest Eye and Blindness, speaking of other relentlessly bleak books by Nobel laureates. But I liked it enough to finish it and just about everything else JM Goodnews has penned.
Review by fieldnotes
16/06/2015
Coetzee writes for academics. He writes to teach lessons, to have his themes discussed and perhaps to be chuckled at. I find his books rather deliberate, hardened and inevitable. Now, he's a fine writer, can turn a passable phrase and get conceptual without becoming a total bore; but, he has a tendency to interpret his books for you and the mannerisms and hobbies of the characters in "Waiting for the Barbarians" slot them too neatly into representative categories, which makes this more of an allegory or morality tale than a novel.Set against the (necessary) paranoia and deafness of empire, "Waiting for the Barbarians" inhabits the balanced and reflective perspective of an amicable boondocks magistrate who finds his duties growing morally questionable just when they should be at their automatic, pre-retirement best. He's the nice-guy-who-didn't-really-want-to-have-to-accept-his-complicity-with-the-atrocities-committed-on-the-periphery-of-empire, the guy who is almost remorseful that he can't quite turn a blind eye to torture and arbitrary imprisonment . . . oh wait . . . that's right, unless you are currently some sort of progressive activist or a waterboarding cog, he is supposed to represent you! And what do you need to know? Well, unless you are a television-fed collision monkey, nothing, probably, and Cotezee doesn't motivate with his writings; he just sort of lays it out there, where you knew it was.His treatment of permanence, of marking, of spoiling and claiming, losing and being forgotten, is multi-layered and well integrated into the love relationships of the book. However, the interplay of these themes would have been more rewarding if the narrator did not signpost and dissect each area of overlap.A few examples of the endearing narrative deadpan: addressing his cock, "Why do I have to carry you about from woman to woman, I asked: simply because you were born without legs? Would it make any difference to you if you were rotted in a cat or a dog instead of in me?""They are tearing down the houses built against the south wall of the barracks, he tells me: they are going to extend the barracks and build proper cells. 'Ah yes,' I say; 'time for the black flower of civilization to bloom.' He does not understand."And then an example of the more pedantic and obvious, "Empire dooms itself to live in history and plot against history. One thought alone preoccupies the submerged mind of Empire: how not to end, how not to die, how to prolong its era. By day it pursues its enemies. It is cunning and ruthless, it sends it bloodhounds everywhere. By night it feeds on images of disaster: the sack of cities, the rape of populations, pyramids of bones, acres of desolation. A mad vision yet a virulent one."The novel operates capably along this spectrum.
Review by siafl
16/06/2015
This is my favourite book by Coetzee and Coetzee has now become my favourite author. This book is masterful with elegant narrative and a display of beautiful words used like no one else could. It reminds me of the movie "Dances with Wolves" until the latter stages of the book, as well as some aspects of The Lord of the Rings. A small book that feels ambitious enough to tackle Goliath, and knowing that this has been one of Coetzee's earlier production, I couldn't help wondering whether the author has thought about reserving something for the future and not to exhaust his creative power all in one book. Thank goodness that he hasn't held back with this one, and congratulations to him for subsequently finding new heights to submit in the literary world.A book I am going to buy and slowly examine at a later time. Such a lot to learn from an otherwise unimposing volume.
Review by petterw
16/06/2015
An old fronter town In an imagined empire is suddenly visited by was mongerers from the government. In this brilliantly written novel. Our here is the magistrate of the town, and we see the escalating conflict between the so-called barbarians and the citizens of the empire, escalate. The story is a fable, but is disturbingly real, and as one reads on it evokes thoughts on many conflicts, many clashes between real civilizatiions. We could so easily have found ourselves in similar situations with identical dilemmas. The magistrate is a flawed and deeply human character, his tormentors represent evil in its true form, but as the magistrate we are also trying to understand without condoning their despicable actions.
Review by UnmuddiedLake
16/06/2015
I reread passages to make the book more linear for me.This is a story within a fictional empire that exists in a timeless, somewhat feral world. This Empire centres around the trade of provisions and the protection against attacks from the Barbarians who live on the outskirts of the Empire. The narrator is a magistrate who oversees the fort. He is forced to examine his loyalty to the Empire when a sinister colonel arrives one day to gather information from nomadic traders about supposedly imminent Barbarian attacks. The colonel's method of interrogation – torture – leaves the magistrate unsure of his purpose within the Empire. In the aftermath of the torturing, one captive dies and another, a young woman, is left behind blinded and crippled.The magistrate, for unknown reasons, attempts to bond with the girl in a ritual that is almost but not quite romantic. He then sets out to return the girl to her tribe, and subsequently suffers an accusation of treason by the colonel. Armies who have arrived to destroy the Barbarians take him prisoner. His own subsequent degradation and torture makes him a sort of fallen hero, one that forces him to examine how and why he is willing to suffer for what he believes in, as confused as it may or may not be.It's not out of step as far as Coetzee novels go, in their spare, descriptive exploration of degradation and redemption.