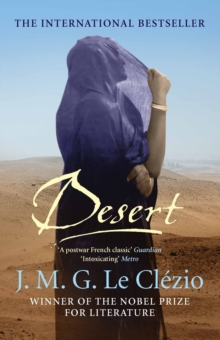 Description
Young Nour is a North African desert tribesman. It is 1909, and as the First World War looms Nour's tribe - the Blue Men - are forced from their lands by French colonial invaders.
Spurred on by thirst, hunger, suffering, they seek guidance from a great spiritual leader.
The holy man sends them even further from home, on an epic journey northward, in the hope of finding a land in which they can again be free.
Decades later, an orphaned descendant of the Blue Men - a girl called Lalla - is living in a shantytown on the coast of Morocco.
Lalla has inherited both the pride and the resilience of her tribe - and she will need them, as she makes a bid to escape her forced marriage to a wealthy older man.
She flees to Marseilles, where she experiences both the hardships of immigrant life - as a hotel maid - and the material prosperity of those who succeed - when she becomes a successful model. And yet Lalla does not betray the legacy of her ancestors.In these two narratives set in counterpoint, Nobel Prize-winning novelist J.
M. G. Le Clezio tells - powerfully and movingly - the story of the 'last free men' and of Europe's colonial legacy - a story of war and exile and of the endurance of the human spirit.
Information
Format: Paperback
Pages: 368 pages
Publisher: Atlantic Books
Publication Date: 01/03/2011
ISBN: 9781848873810
Free Home Delivery
on all orders
Pick up orders
from local bookshops
Reviews
Showing 1 - 1 of 1 reviews.
Review by Luli81
16/06/2015
Two linked stories about tradition and progress and what we as a civilisation have come to sacrifice to get where we are.Beginning of the twentieth century, Nour, one of the last of a disappearing tribe who have to start a migration through the desert to find their homeland. Lalla, the descendant of that now disappeared tribe, who has to take her own journey to find what's lacking in her life.Prose which should be read as poetry, through the senses. I think that if you try to read this novel in the traditional sense, you won't be very satisfied with the experience.There's a plot to follow, but sometimes great important facts seem to be omitted whereas details such as the smell of the sand or the texture of some clothes or the warm and salty water of a particular beach are described for pages and pages.You have to feel more than to read this novel.It reminded me of Woolf's writing style, dense, subtle, elegant and poetic.Not for everybody.