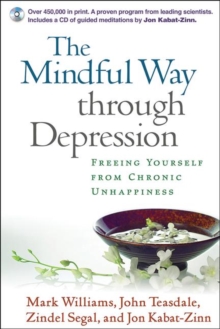 The Mindful Way Through Depression : Freeing Yourself from Chronic Unhappiness
Paperback
Description
If you've ever struggled with depression, take heart.
Mindfulness, a simple yet powerful way of paying attention to your most difficult emotions and life experiences, can help you break the cycle of chronic unhappiness once and for all.
In The Mindful Way through Depression, four uniquely qualified experts explain why our usual attempts to "think" our way out of a bad mood or just "snap out of it" lead us deeper into the downward spiral.
Through insightful lessons drawn from both Eastern meditative traditions and cognitive therapy, they demonstrate how to sidestep the mental habits that lead to despair, including rumination and self-blame, so you can face life's challenges with greater resilience.
Jon Kabat-Zinn gently and encouragingly narrates the accompanying CD of guided meditations, making this a complete package for anyone seeking to regain a sense of hope and well-being.
See also the authors' Mindful Way Workbook, which provides step-by-step guidance for building your mindfulness practice in 8 weeks.
Plus, mental health professionals, see also the authors' bestselling therapy guide: Mindfulness-Based Cognitive Therapy for Depression, Second Edition. Association for Behavioral and Cognitive Therapies (ABCT) Self-Help Book of Merit
Information
Format: Paperback
Pages: 273 pages
Publisher: Guilford Publications
Publication Date: 02/06/2007
Category: Coping with illness
ISBN: 9781593851286
Other Formats
Hardback from £32.49
PDF from £21.07
Free Home Delivery
on all orders
Pick up orders
from local bookshops
Reviews
Showing 1 - 4 of 4 reviews.
Review by skullstuffing
16/06/2015
Forget evidence-based medicine. Let's meditate against depression. I confess I am utterly biased against all types of meditation techniques and only read this book since it was work-related. I say "read" but I skimmed through two thirds and abandoned it because it was simply too painful to read such repetitive drivel and then listen to it on the accompanying CD as well. <br/><br/>I admit I am not a member of any of the target audiences for this book - I'm not depressed, nor anxious, nor do I read self-help guides and neither am I inclined to exploring meditation and Eastern philosophies. However, as a reader, I do expect a book on psychological therapy to be written clearly, concisely and with the proper scientific evidence for its efficacy. I recommend this only if you're in need of an alternative to sleeping pills.
Review by notemily
16/06/2015
This book isn't exactly a quick read, but it does a great job of explaining the way in which negative thinking patterns make (and keep) people depressed, and how to overcome them. Do you ever find yourself feeling bad about feeling bad? This book explains that such an approach just creates more suffering, and it's better to accept the first bad feeling without piling more bad feelings on top of it. For the record, I do believe in medication and therapy (and use both), but I also find mindfulness invaluable. I don't think the two fields are incompatible. There's a limit to what you can learn about mindfulness from a book--I recommend seeing if your local mindfulness center has a beginner course available--but if you're going to, this book is a good place to start. The "eight-week program" the book mentions isn't outlined until the very last chapter, so if you're just looking to jump into the practical side of mindfulness, skip to that chapter. It tells you which chapters in the book are related to each week of the program, so you can go back and read those at the appropriate times. Study after study has shown that people who meditate regularly are healthier than those who don't, on both a physical and mental level. Don't discount it.
Review by motjebben
16/06/2015
I purchased this book, based on references to John Teasdale's work given in Jeffrey M. Schwartz's book, "The Mind and the Brain: Neuroplasticity and the Power of Mental Force". Without having seen this book, I primed myself to think that it might not only give instruction on "The Mindful Way",but that it might also delve more deeply into Teasdale's research that Dr. Schwartz had mentioned. Instead (and with the slightest bit more of research I should have realized this), this book describes more about how to achieve mindfulness. There is little to no neuroscience described. That is NOT a fault of this book, but a fault of my own wishes. As far as a description of how to practice mindfulness, this book does an admirable job, but not in any way that is too much different from many other excellent sources (including some by one of the co-authors, Jon Kabat-Zinn), hence, I give it only 3 stars.For someone that is just encountering mindfulness for the first time, I think it might be an excellent introduction and might rate higher. For such an individual, I DO recommend this book!
Review by knittingmomof3
16/06/2015
First let me state that I believe the most effective treatment for my loved one is medication coupled with group and individual therapy, with that disclaimer out of the way I chose this book to read because I also believe in mindfulness. No doubt there are those who will use the techniques outlined in the book sans medication and therapy, however for my loved one that is not an option, but The Mindful Way Through Depression offers my loved one yet another tool toward healing and not suffering from a relapse. If you are reading this review then you know someone with a mood disorder and probably know that each person responds to different forms of treatment. I am not advocating one form of treatment over another, and with that stated, I would recommend this book to those who want a more holistic approach to depression.