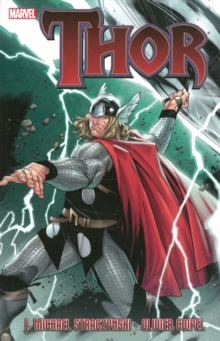 Thor By J. Michael Straczynski Vol.1
Paperback
Information
Format: Paperback
Pages: 160 pages, 1 Illustrations, unspecified
Publisher: Marvel Comics
Publication Date: 13/08/2008
Category: Superheroes
ISBN: 9780785117223
Free Home Delivery
on all orders
Pick up orders
from local bookshops
Reviews
Showing 1 - 5 of 6 reviews.
Previous | Next
Review by nesum
16/06/2015
I was such a fan of Thor before, you know, he died and all. I knew he was coming back, but I sort of dreaded it. I'm really rather tired of the super-heroes dying and coming back to life. It seems like every time they need a boost in the sales, they just kill someone.I wasn't going to give Thor another chance, but then it's Straczynski. I trust him enough to give it a try. I'm glad I did. This is not a normal Thor book. This is Thor trying to find the other Asgardians and recreate his home. It's not about huge battles. It's about his heart. I was very impressed.
Review by kivarson
16/06/2015
Thor returns to earth and settles in the plains of Oklahoma, bringing the entire kingdom of Asgard with him. The kindly townspeople are very hospitable to these new arrivals.
Review by EmilyNagtegaal
16/06/2015
The story begins with Thor and Dr. Donald Blake meeting in the Great Void. Asgard, the home of the gods, was destroyed when Ragnarök, the cycle of destruction and rebirth, was severed by Thor. The Norse gods are now all dead, or so it would seem. Blake convinces Thor to return to Earth and restore Asgard to its former glory. Blake also informs Thor that the gods are not all dead, but instead reside in human bodies. Thor, in Donald Blake's body, travels to Oklahoma where he rebuilds Asgard and begins his search for his fellow gods. Through a number of unexpected events and harrowing adventures, Thor finds many of his closest friends. Yet, someone or something is trying to destroy the Asgardians who still reside in humans and Thor must race against time and face many enemies in order to save his fellow gods. "Thor" by Michael J. Straczynski is the debut of the third volume in the long history of Thor comic books. This comic book is an exciting read for anyone who likes superheroes and mythology combined. Before reading "Thor", I had never read a comic book or graphic novel. Reading this comic was definitely a new experience for me, but one that I greatly enjoyed. "Thor" is an action-packed and suspense filled comic book that appeals to one's senses vividly and is a greatly entertaining read.
Review by TPauSilver
16/06/2015
This is a well writte, well drawn and compelling story. Thor is called back to the mortal plane and seeks to re-establish Asguard by finding the souls of the other Asguardians and resurecting them. It was interesting and complex though some things might be confusing if you don't know what happened in civil war.
Review by jshillingford
16/06/2015
This is the kind of book that gets a person excited about superheroes, no doubt about it. I started with Journey into Mystery V1 as a starting point for Marvel comics (after loving the film, Avengers). I was immediately hooked and wanted to see how we got to that point. I decided to skip over House of M and Civil War, as those stories seemed too dark, and I didn't want to go too far back. I had read great reviews about Straczynski's reintroduction of Thor, which also introduced Lady Loki, and decided to jump to this point. Though the story is fairly well contained, it is helpful to know something of what happened before, especially in Civil War. So, I recommend newbie readers like me hit Wikipedia to get an overview of those prior major events.This book opens with the human Donald Blake, who once hosted Thor's spirit, calling the God of Thunder from the Void of nothingness. The cycle of endless Raganaroks had been broken, but humanity still needs the gods. Thor chooses to be reborn, and he uses his power to rebuild Asgard – in Oklahoma! He then begins searching the world for his people, bound within humans waiting to be awakened. He intended not to awaken certain Asgardians (Loki, Enchantress, et al), but while engaged in battle was forced to awaken everyone at once. Loki is somehow reborn as a woman, and Sif cannot be found. The stage is set. The most exciting part of this book is the clash between Thor and Iron Man, when Thor reveals just how powerful he is – that he had always held back before. He's ticked off at Tony for using his genetic code to make a "fake" Thor and passing him off as the real deal during the Civil War. Overall, this is a fantastic (re)introduction of Thor. The story is engrossing, and I love the artwork. Thor is totally bad a@@, and the fights scenes are expertly rendered and thrilling. Highly recommended!