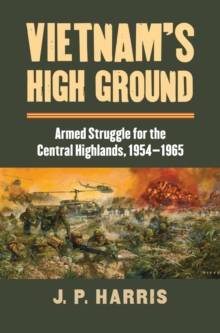 Vietnam's High Ground : Armed Struggle for the Central Highlands, 1954-1965
Hardback
Description
During its struggle for survival from 1954 to 1975, the region known as the Central Highlands was the strategically vital high ground for the South Vietnamese state.
Successive South Vietnamese governments, their American allies, and their Communist enemies all realized early on the fundamental importance of this region.
Paul Harris's new book, based on research in American archives and the use of Vietnamese Communist literature on a very large scale, examines the struggle for this region from the mid-1950s, tracing its evolution from subversion through insurgency and counterinsurgency to the bigger battles of 1965. The rugged mountains, high plateaus, and dense jungles of the Central Highlands seemed as forbidding to most Vietnamese as it did to most Americans.
During 1954 to 1965, the great majority of its inhabitants were not ethnic Vietnamese.
Ngo Dinh Diem's regime initially supported an American counterinsurgency alliance with the Highlanders only to turn dramatically against it.
As the war progressed, however, the Central Highlands became increasingly important.
It was the area through which most branches of the Ho Chi Minh Trail passed.
With its rugged, jungle-clad terrain, it also seemed to the North Vietnamese the best place to destroy the elite of South Vietnam's armed forces and to fight initial battles with the Americans.
For many North Vietnamese, however, the Central Highlands became a living hell of starvation and disease.
Even before the arrival of the American 1st Cavalry Division, the Communists were generally unable to win the decisive victories they sought in this region. Harris's study culminates with an account of the campaign in Pleiku province in October to November-a campaign that led to dramatic clashes between the Americans and the North Vietnamese in the Ia Drang valley.
Harris's analysis overturns many of the accepted accounts about NVA, US, and ARVN performances.
Information
Format: Hardback
Pages: 552 pages, 29 photographs, 38 maps
Publisher: University Press of Kansas
Publication Date: 30/08/2016
Category: Vietnam War
ISBN: 9780700622832
Free Home Delivery
on all orders
Pick up orders
from local bookshops
Also in the Modern War Studies series | View all