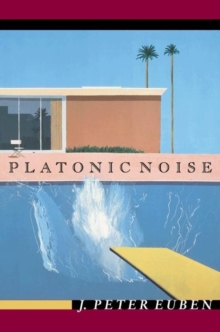 Platonic Noise
Paperback / softback
Description
Platonic Noise brings classical and contemporary writings into conversation to enrich our experience of modern life and politics.
Drawing on writers as diverse as Plato, Homer, Nietzsche, Borges, Don DeLillo, and Philip Roth, Peter Euben shows us the relevance of both popular literature and ancient Greek thought to current questions of loss, mourning, and democracy--all while arguing for the redeeming qualities of political and intellectual work and making an original case against presentism.
Juxtaposing ancient and contemporary texts, politics, and culture, Euben reflects on a remarkable range of recent issues and controversies.
He discusses Stoic cosmopolitanism and globalization, takes a critical look at Nietzsche's own efforts to make the Greeks speak to the issues of his day, examines a Greek tragedy through Hannah Arendt's eyes, compares the role of comedy in ancient Athens and contemporary America, analyzes political theory as a reaction to an acute sense of loss, and considers questions of agency and morality.
Platonic Noise makes a case for reading political theory and politics through literature. Working as much through example as through explicit argument, Euben casts the literary memory of Athenian democracy as a crucial cultural resource and a presence in contemporary political and theoretical debates.
In so doing, he reasserts the moral value of what we used to call participatory democracy and the practical value of seeing ourselves with the help of insights from long-gone Greeks.
Information
Format:Paperback / softback
Pages:224 pages
Publisher:Princeton University Press
Publication Date:04/05/2003
Category:
ISBN:9780691114002