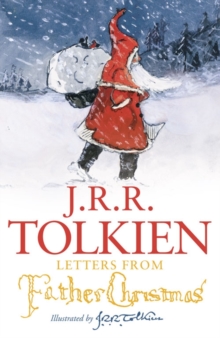 Letters from Father Christmas
Hardback
Description
This revised edition of Tolkien's famous illustrated letters from Father Christmas to his children includes a number of pictures and letters that have not been seen in print before.
The perfect Christmas gift for Tolkien lovers of all ages. This classic festive book of Tolkien's amazing Father Christmas letters written to his children between the 1920s and the 1940s has been reworked into a new and attractive edition.
It contains brand new high-quality digital reproductions of his amazing letters and pictures, including a number them that have never been printed before. `My dear children, I am more shaky than usual this year.
The North Polar Bear's fault. It was the biggest bang in the world, and the most monstrous firework there has ever been.
It turned the North Pole black!' Every December an envelope bearing a stamp from the North Pole would arrive for J.
R. R. Tolkien's children. Inside would be a letter in strange spidery handwriting and a beautiful coloured drawing or some sketches.
The letters were from Father Christmas. They told wonderful tales of life at the North Pole:* How all the reindeer got loose and scattered presents all over the place.* How the accident-prone Polar Bear climbed the North Pole and fell through the roof of Father Christmas's house into the dining-room* How he broke the Moon into four pieces and made the Man in it fall into the back garden* How there were wars with the troublesome horde of goblins who lived in the caves beneath the house! Sometimes the Polar Bear would scrawl a note, and sometimes Ilbereth the Elf would write in his elegant flowing script, adding yet more life and humour to the stories.
From the first note to Tolkien's eldest son in 1920 to the final poignant letter to his daughter in 1943, this book collects all the remarkable letters and pictures in one enchanting edition.
No reader, young or old, can fail to be charmed by the inventiveness of Tolkien's Letters from Father Christmas.
Information
Format: Hardback
Pages: 192 pages
Publisher: HarperCollins Publishers
Publication Date: 01/09/2012
Category: Fantasy
ISBN: 9780007463374
Other Formats
Paperback from £6.89
CD-Audio from £9.89
EPUB from £6.49
eAudiobook MP3 from £4.79
Free Home Delivery
on all orders
Pick up orders
from local bookshops
Reviews
Showing 1 - 1 of 1 reviews.
Review by Michael.Rimmer
16/06/2015
Reading this as an adult, what comes across most strongly is Tolkien's love and affection for his children (which is, of course, what one would expect of all parents for their children, but which sadly is not always so) and his delight in writing and drawing these little Christmas stories each year.<br/><br/>Due to the very young age of his eldest son when the first letter was written in 1920, these early missives are very short, but in 1925 we get a longer message which introduces us to the North Polar Bear, who will feature every year thereafter, and a beautiful little painting of the NPB wrecking the North Pole itself, smashing Father Christmas's house, and a picture of the new house that he builds to replace it.<br/><br/>The Letters were never intended for publication and it's a testament to Tolkien's remarkable skill at storytelling that simply collecting them together makes such a delightful book. The Letters do continue themes from one year to the next and the characters are likeable, funny and have their own personalities.<br/><br/>The last couple of letters, addressed just to his youngest child, Priscilla, by this time, are quite poignant. It seems that she has been too busy to write to Father Christmas, but he has a good idea, anyway, of what she would like in her stocking (books, of course). In 1943, Father Christmas supposes that Priscilla will be hanging up her stocking just once more, and there was to me a feeling that, perhaps, she would not have missed Father Christmas's letters had they stopped a little earlier. Sometimes it's hard for parents to accept that their children have grown up. Nevertheless, Father Christmas assures Priscilla that he will never forget her, nor her brothers, and that when they have children of their own he may write again.<br/><br/>A magical story to read with younger children, although I suspect that they might be wanting some letter from Father Christmas themselves afterwards, so be warned!