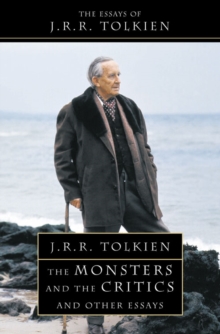 The Monsters and the Critics
Paperback
Description
Complete collection of Tolkien's essays, including two on Beowulf, which span three decades beginning six years before The Hobbit to five years after The Lord of the Rings.The seven `essays' by J.R.R.
Tolkien assembled in this new paperback edition were with one exception delivered as general lectures on particular occasions; and while they mostly arose out of Tolkien's work in medieval literature, they are accessible to all.
Two of them are concerned with Beowulf, including the well-known lecture whose title is taken for this book, and one with Sir Gawain and the Green Knight, given in the University of Glasgow in 1953.Also included in this volume is the lecture English and Welsh; the Valedictory Address to the University of Oxford in 1959; and a paper on Invented Languages delivered in 1931, with exemplification from poems in the Elvish tongues.
Most famous of all is On Fairy-Stories, a discussion of the nature of fairy-tales and fantasy, which gives insight into Tolkien's approach to the whole genre.The pieces in this collection cover a period of nearly thirty years, beginning six years before the publication of The Hobbit, with a unique `academic' lecture on his invention (calling it A Secret Vice) and concluding with his farewell to professorship, five years after the publication of The Lord of the Rings.
Information
Format: Paperback
Pages: 256 pages
Publisher: HarperCollins Publishers
Publication Date: 06/01/1997
Category: Literary essays
ISBN: 9780261102637
Free Home Delivery
on all orders
Pick up orders
from local bookshops
Reviews
Showing 1 - 3 of 3 reviews.
Review by Mithril
16/06/2015
Fascinating subject material, albeit slightly difficult to follow.
Review by chriskrycho
16/06/2015
Not exactly scintillating reading, especially if not already a fan of Tolkien. As he himself admits in one of the lectures (for which these essays were the manuscripts), he was not a particularly interesting lecturer. The only essays likely of broader interest are his famous "On Fairy Stories", and "A Secret Vice" (on invented language). Gladly, these are also the most readable of the bunch, and "On Fairy Stories" alone is with the price of the volume. I'm glad to have it on my shelf, but doubt I'll be reading it regularly, apart from referencing that jewel in the middle.
Review by shanaqui
16/06/2015
Tolkien was a pretty devastatingly smart guy, who didn't only create a world and languages of his own, but was a serious and intelligent scholar who knew many languages, modern and archaic, and had a wide interest in different literatures and mythologies. This volume contains seven of his academic essays: for a modern academic, the volume of his work -- however influential and inspiring -- would be insufficient, with the pressure to publish all the time. Good thing he isn't a contemporary academic: his careful editing and long thought is what made his lectures and essays so accessible.<br/><br/>This volume includes two essays on Beowulf: his very famous one, from which the title of this volume derives, and the one he wrote as an introduction to Clark Hall's translation. The first one is, of course, one of the first points of call for anyone studying Beowulf, and rightfully so. The volume also contains an essay on Sir Gawain and the Green Knight, his famous essay 'On Fairy Stories', an essay on 'English and Welsh', an essay about the invention of languages, and his valedictory address, given when he left Oxford. All of them are well worth reading. They're not dry at all, but warm and passionate as Tolkien was warm and passionate, and of course, intelligent. I wish I could have heard him lecture (although, some people who went to his lectures could say that too, given his reputation of being a mumbler).