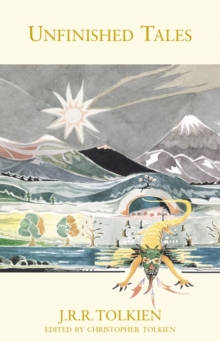 Unfinished Tales
Hardback
Description
Classic hardback edition of this fascinating collection of stories, featuring Tolkien's own painting of the dragon Glaurung on the cover, which continues the tales of The Hobbit, The Lord of the Rings and The Silmarillion and contains an alternative version of The Children of Hurin. Unfinished Tales is a collection of narratives ranging in time from the Elder Days of Middle-earth to the end of the War of the Ring, and provides those who have read The Lord of the Rings with a whole collection of background and new stories from the twentieth century's most acclaimed popular author. The book concentrates on the realm of Middle-earth and comprises such elements as Gandalf's lively account of how it was that he came to send the Dwarves to the celebrated party at Bag-End, the emergence of the sea-god Ulmo before the eyes of Tuor on the coast of Beleriand, and an exact description of the military organization of the Riders of Rohan. Unfinished Tales also contains the only story about the long ages of Numenor before its downfall, and all that is known about such matters as the Five Wizards, the Palantiri and the legend of Amroth.
The tales were collated and edited by JRR Tolkien's son and literary heir, Christopher Tolkien, who provides a short commentary on each story, helping the reader to fill in the gaps and put each story into the context of the rest of his father's writings.
Information
Format: Hardback
Pages: 512 pages, Index
Publisher: HarperCollins Publishers
Publication Date: 12/12/1991
Category: Fantasy
ISBN: 9780261102156
Other Formats
Paperback from £8.65
Hardback from £42.95
EPUB from £6.49
Free Home Delivery
on all orders
Pick up orders
from local bookshops
Reviews
Showing 1 - 2 of 2 reviews.
Review by Nichi
16/06/2015
I think I felt that this book wasn't entirely written by Tolkien himself. Sure, his son (?) did an admirable job and I liked reading more stories playing in middle earth, but compared to LotR and the silmarillion and Hobbit, this one falls a little flat.
Review by satyridae
16/06/2015
I can only recommend this to rabid fans and completists. But I certainly enjoyed reading it again. There's lots of LotR background here, and fleshing out of certain stories (the death of Theodred for one, and the backstory of Galadriel & Celeborn). I liked how Christopher Tolkien presented numerous forms of a story, if numerous forms were found in his father's notes. I remain torn about how JRRT would have felt about all of his marginalia being edited & published, but it doesn't really matter and is only idle speculation. I say it adds to the canon, and therefore it's okay by me.