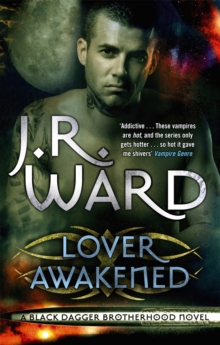 Lover Awakened : Number 3 in series
Paperback
Description
In the shadows of the night in Caldwell, New York, there's a deadly war raging between vampires and their slayers. And there exists a secret band of brothers like no other - six vampire warriors, defenders of their race.
Of these, Zsadist is the most terrifying member of the Black Dagger Brotherhood.
A former blood slave, the vampire Zsadist still bears the scars from a past filled with suffering and humiliation.
Renowned for his unquenchable fury and sinister deeds, he is a savage feared by humans and vampires alike.
Anger is his only companion, and terror is his only passion - until he rescues a beautiful aristocrat from the evil Lessening Society.
Bella is instantly entranced by the seething power Zsadist possesses.
But even as their desire for one another begins to overtake them both, Zsadist's thirst for vengeance against Bella's tormentors drives him to the brink of madness.
Now, Bella must help her lover overcome the wounds of his tortured past, and find a future with her.
Information
Format: Paperback
Pages: 544 pages
Publisher: Little, Brown Book Group
Publication Date: 05/08/2010
Category: Romance
ISBN: 9780749954437
Free Home Delivery
on all orders
Pick up orders
from local bookshops
Reviews
Showing 1 - 2 of 2 reviews.
Review by Lauren2013
16/06/2015
Lover Awakened
3 Stars

Synopsis
A former blood slave who suffered ceaseless sexual abuse at the hands of his mistress, Zsadist has developed an intense aversion to women and sex until the day he meets Bella. Able to see beyond his external scars to the wounded warrior beneath, Bella refuses to accept Zsadist's attempts to rebuff her and is determined to make him see that he is worthy of love. Can this mismatched pair overcome all the odds?

Review
Bella and Zsadist's story is the definite highlight of this book. Their relationship is intense, passionate and heart-wrenching. Bella is a truly lovely character, and as tortured heroes go, Zsadist is up there with the best. Nevertheless, even though his experiences as a slave are painful and distressing to read about, something about the writing and descriptions did not completely resonate with me. I am usually the first to break out the Kleenex with this type of character but in this case my packet remained unopened. For a seriously good cry, I recommend Dance with the Devil by Sherrilyn Kenyon. Zarek's book requires at least two Kleenex packets.

After discussing the issue with some friends in another forum (you know who you are), I've come to the conclusion that my problem with this series stems from the fact that I am a plot rather than a character driven reader. The BDB characters are well-developed and engaging but that simply does not compensate for the lackluster plot, the mediocre dialogue and the ridiculous villains.

I found myself skipping over large portions of the book, which is not the way that I want to read. I gave myself until this book to decide whether or not to continue with the series and have decided that it just isn't for me.
Review by katie1802
16/06/2015
This is probably the best book in the series so far. I haven't read the rest but I can guess it's the best book in the series. How do I know this? Because Zsadist. Fucking Zsadist. Man, I love that dude, in all his messed up, tortured glory. Bella is also adorable.<br/><br/>I liked how Zsadist slowly opened up and eventually found himself to be deserving of love. The epilogue also made me squee from pure joy.<br/><br/>I haven't gotten around to reading book four or the rest, I'm not even sure I will. I think I only read to book three to get Zsadists story, I was that intrigued by him from the very start.
Also in the Black Dagger Brotherhood Series series | View all