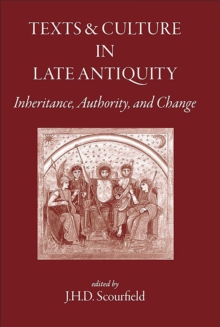 Texts and Culture in Late Antiquity : Inheritance, Authority, and Change
Hardback
Description
Late Antiquity has increasingly been viewed as a period of transformation and dynamic change, a process as evident in its literature as in the spheres of society and politics.
In this volume, thirteen scholars focus on the intellectual and literary culture of the time, investigating complex relationships between late-Antique authors and the texts which they had inherited through the classical (pagan) and Christian traditions.
Particular emphasis is placed on works that carried special authority: Homer, Virgil, Plato, and the Bible.
The volume thus contributes to the history of the reception of classical texts, and through its inclusiveness (classical/classicising, philosophical, and patristic writing are all represented) seeks to offer a view of the textual world of late Antiquity as a unified whole; by the same token, it affords a scholarly introduction to a sweep of late-Antique literature in Greek and Latin.
Authors and genres discussed include Juvencus and Claudian, Plotinus and Proclus, Jerome and John Cassian, geographical and grammatical writing, and Christian cento.
Information
Format: Hardback
Pages: 346 pages
Publisher: Classical Press of Wales
Publication Date: 22/11/2007
Category: European history
ISBN: 9781905125173