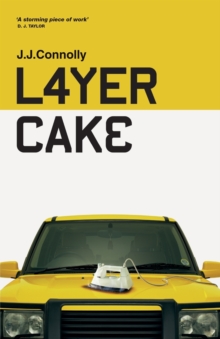 Description
Layer Cake, a metaphor for the many murky layers of the criminal world, is set in modern day London and features smooth-talking and sophisticated drug dealer 'X' whose plan is to quietly bank-roll enough cash to retire young (early).
Operating under the polished veneer of a legitimate businessman, his mantra is to keep a low profile and run a tight operation until it's time to get out. 'X' sees his opportunity to make a final score when crime boss, Jimmy Price, asks him to find the wayward daughter of rival crime boss, Eddy Ryder.
He agrees to take the seemingly innocuous gig as his opportunity to get out of the business with the blessing from Jimmy Price.
From the glitz of the London club scene to the underbelly of its criminal world, a dark, twisted thriller ensues.
Information
Format: Paperback
Pages: 352 pages
Publisher: Duckworth Overlook
Publication Date: 12/08/2004
ISBN: 9780715633359
Free Home Delivery
on all orders
Pick up orders
from local bookshops
Reviews
Showing 1 - 3 of 3 reviews.
Review by pbirch01
16/06/2015
Layer Cake is only about one topic - moving drugs and is in no way layered as in the literary sense of the term layered. The book is a complicated picture of the London drug scene which is comprised of many layers which combine in unexpected ways. The protagonist (who remains unamed throughout the story) want to retire from the drug dealing business before turning thirty. His thoughts are quickly dashed after he is cajoled into looking for the daughter of one of his business associates. This seemingly simple task quickly turns into a large and murky task that has the protagonist questioning why he took the job on in the first place.
Review by AHS-Wolfy
16/06/2015
A mid-level drug dealer in London wants to quit the scene before he's thirty and enjoy the fruits of his labour while he's young enough to enjoy it. Hopefully one more big score should set him up nicely. Unfortunately, the higher-ups want him to do a favour and his early retirement plans are dependant on the outcome. Local crime boss Jimmy Price has a friend who's daughter has gone missing with a crack-head and it's up to our narrator to find her and then he'll be allowed to leave without a fuss. A complicated deal is also happening while the search is on and hopefully this will earn enough to put his plans into action. Obviously things don't go down well and there are several plot twists involved with this story of drugs and the people that provide them.This is a clever book that has you caring for some seriously nasty people that you wouldn't want to meet in broad daylight, never mind a dark alley. Set mostly in London, with lots of local vernacular to add colour, this is a fast-moving tautly plotted story. Plenty of violence though none described in all of its gory detail. It does perhaps push the same sort of buttons that once too often but it was still a very gripping read.
Review by DeltaQueen50
16/06/2015
Layer Cake by J.J. Connolly is the story of an unnamed drug dealer in London. Both utterly smooth and totally savvy in the world he moves in, his plans are to make his money and then quietly disappear before the age of 30. Although he has plenty of money stashed away, he needs the ok from his boss, and he's only getting that if he will handle a problem. The boss wants him to track down a friend's runaway daughter, oh, and also there's this one final deal he would like him to oversee …I don't want to know these people or even be anywhere around them, but I do enjoy reading about the London criminal element. They have their own style and flair, their own language and even though they are as brutal as they come, they make for very interesting reading. The author leads the reader step by step, deeper and deeper in this gangland world, peopled by a supporting cast of colourful characters, With wry humor and a real ring of authenticity, Layer Cake is an original, inventive crime story. I have seen the movie that was based on this book and although it was a number of years ago, I remember also being very impressed by it. Although it took me a chapter or two to be comfortable with the slang terms, this was a great story that had me gasping in horror on one page and laughing out loud on another. Quite violent and not for the overly sensitive but otherwise an excellent work of crime fiction.
Also by J.J. Connolly