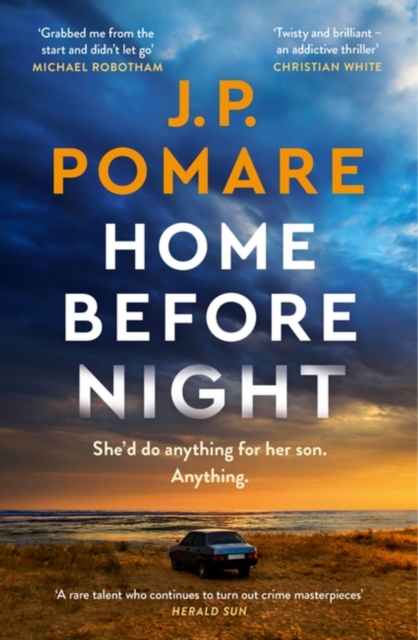 Home Before Night
Paperback / softback
Description
'There's a reason Pomare is called the king of the twist . . . You know from the outset this will be a twisty psychological thriller and it's all that, with the storyline taking a few left turns to keep the suspense tightly coiled' Herald Sun'Ratchets up psychological suspense with a cleverly constructed plot that can be devoured in one go' Sydney Morning Herald'A frantic domestic thriller . . . Along with Jane Harper and Liane Moriarty, J. P. Pomare is quickly becoming one of Australia's biggest literary exports' The GuardianMother's intuition or a deadly guilty conscience?
A woman races against time to find her son in this tense and twisty thriller by the Top Ten bestselling author of The Wrong Woman. As the third wave of the virus hits, all inhabitants of Melbourne are given until 8 pm to get to their homes.
Wherever they are when the curfew begins, they must live for four weeks and stay within five kilometres of.
When Lou's son, Samuel, doesn't arrive home by nightfall, she begins to panic. He doesn't answer his phone. He doesn't message. His social media channels are inactive. Lou is out of her mind with worry, but she can't go to the police, because she has secrets of her own.
Secrets that Samuel just can't find out about. Lou must find her son herself and bring him home. Includes an exclusive extract of the next J. P. Pomare thriller, Seventeen Years Later, publishing in 2024. Praise for Home Before Night:'J. P. Pomare has once again earned his place on my instant-read list.
Home Before Night is twisty and brilliant - a highly addictive thriller!' CHRISTIAN WHITE'This grabbed me from the opening page and didn't let go' MICHAEL ROBOTHAM'The thrill and fear arrive early in Home Before Night and doesn't leave until the final pages.
J. P. Pomare is the real deal; he has the skill to twist your heart' CANDICE FOX'From page one, J.P.
Pomare effortlessly instils us with a tantalising sense of unease.
In this page-turning thriller, all is not as it seems, and the truth is a lot darker and in many ways more human than we could ever imagine.
Deftly written, lean in style, this is a gripping read from a true talent' Weekend Australian'Tense and twisty . . . A fast-paced mystery' Who Weekly'Compelling' The Australian Women's Weekly'A lean and terrifying thriller about a mother's desperate search for her missing son during a pandemic.
Trust us, you'll devour it in one sitting!' Woman's Day'A page-turner with masterful plot twists.
Deftly written, lean in style, this is a gripping read from a true talent' Better Reading'Twisty' West Australian'Propulsive.
Compelling. Dramatic' Canberra Times'J.P. Pomare has proven his mastery of the slow burn and sleight of hand, putting both to good use in his latest novel' Better Homes & Gardens'It takes a special kind of genius to create twisty, thrilling novels that can be read in a single satisfying sitting' Good Reading Magazine'Pomare delivers twists, turns and secrets aplenty in his sixth novel' Geelong AdvertiserPraise for The Wrong Woman:'Keeps readers on their toes from the opening page.
His is a rare talent that continues to turn out crime masterpieces' Herald Sun'Deftly plotted, pacey and sharply written.
Twists come out of nowhere and the high drama of the final few chapters is edge-of-the-seat stuff' New Zealand Women's Weekly'A twisty small-town mystery with a protagonist I didn't want to let go' IAN RANKIN'The pay-off is criminally good . . . As always, Pomare keeps the best surprises until last.
Prepare for a late night' Sydney Morning Herald
Information
Format:Paperback / softback
Pages:304 pages
Publisher:Hachette Australia
Publication Date:05/10/2023
Category:
ISBN:9780733649547
Information
Format:Paperback / softback
Pages:304 pages
Publisher:Hachette Australia
Publication Date:05/10/2023
Category:
ISBN:9780733649547