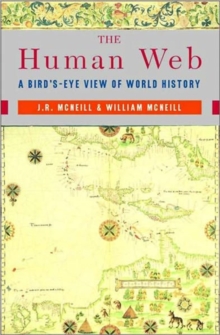 The Human Web : A Bird's-Eye View of World History
Paperback
Description
World-historical questions such as these, the subjects of major works by Jared Diamond, David Landes, and others, are now of great moment as global frictions increase.
In a spirited and original contribution to this quickening discussion, two renowned historians, father and son, explore the webs that have drawn humans together in patterns of interaction and exchange, cooperation and competition, since earliest times.
Whether small or large, loose or dense, these webs have provided the medium for the movement of ideas, goods, power, and money within and across cultures, societies, and nations.
From the thin, localized webs that characterized agricultural communities twelve thousand years ago, through the denser, more interactive metropolitan webs that surrounded ancient Sumer, Athens, and Timbuktu, to the electrified global web that today envelops virtually the entire world in a maelstrom of cooperation and competition, J.
R. McNeill and William H. McNeill show human webs to be a key component of world history and a revealing framework of analysis.
Avoiding any determinism, environmental or cultural, the McNeills give us a synthesizing picture of the big patterns of world history in a rich, open-ended, concise account.
Information
Format: Paperback
Pages: 368 pages
Publisher: WW Norton & Co
Publication Date: 01/12/2003
Category: General & world history
ISBN: 9780393925685
Free Home Delivery
on all orders
Pick up orders
from local bookshops
Reviews
Showing 1 - 2 of 2 reviews.
Review by becker2558
16/06/2015
Awful would be the one word I would use to describe this book. Painful would be the one word I would use to describe the experience of reading this book. There's really not too much more I can say. Of course it was extremely important... It was a textbook. I was truly upset to have this book assigned to me as a summer reading assignment. Why not just make me read the textbook? This book was so filled to the brim with facts and histories that on a scale of 1 to 10 of how interested I was, 10 being so unbelievably interested, I would probably be within the range of 0 to -5. I made constant attempts to choke the information down my throat page by page, page by page. Initially my goals were to read a chapter in one sitting. This quickly changed to 10 pages in a sitting, which quickly changed to 7, to 5, and so on until I found myself almost unable to read it at all. Now, some might say, first and foremost the McNeill's, that the point of the book was not to be interesting. Well, if given the opportunity to refute this point to them, I would probably say that a little bit of interest may have given me the ability to actually take in some of the information. From words to sentences to paragraphs to pages, all the book gave was events, people, and cold facts. There was nothing remotely enjoyable, so none of the information stuck. The only reason I gave it half a star is that I didn't know how to make it clear that I'd given it a 0... I have never learned less from a book in my life, and I hope that the McNeill's look at random review on book websites so they can take in what I have written here.
Review by dkaul
16/06/2015
I was required to read this book for my ap world history class, and I have to admit it is more dry and tedious than our textbook was. The McNeill brothers do a great job of researching and compiling information about world history, however at times I like they were just droning on about some event that happened years ago. They fail to create an engaging and appealing book. In my opinion, history has the capability of being very interesting, one can get lost in a story about a great ruler or battle. However, The Human Web is so monotonous that one could fall asleep reading it (I did). To be honest, I do not think that even a quarter of the students in my class actually read the book in its entirety. This book has so much potential, because the authors came up with the ingeneous idea that all aspects of world history are connected. Every development, between every society, is some how connected over time, hence the title The Human Web, These webs can be organized into several sub categories including technological webs, religious webs, territorial webs etc...If you are looking for a boring read, this is it. I am not surprised that I am the first person to write a review on this book, the only people who would ever need to read it would be historians, or individuals researching information. In my opinion the McNeill's book should not even be classified as a book at all.