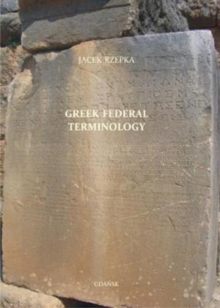 Greek Federal Terminology
Paperback / softback
Description
This is a study of the vocabulary which the Greeks used to speak about states different from the polis (city-state).
Some of these states, such as Boeotia in the fourth, and Achaea and Aetolia in the third century BC, reached superpower status in Greek politics.
Nowadays these states are commonly called federal, but we lack any serious reflection of federalism in Greek political thought.
In pursuit of specifically federalist language Rzepka examines the inscriptions testifying to the working of Greek leagues and the life of federal Greeks, as well as a vast range of Classical authors.
He argues that the deliberate choice of technical terms, and especially the emergence of federalist jargon in the Hellenistic period, reflect the development of the federalist path in Greek political thought.
Free Home Delivery
on all orders
Pick up orders
from local bookshops