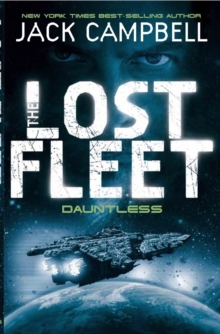 Lost Fleet - Dauntless (Book 1)
Paperback
Description
The Alliance has been fighting the Syndic for a century, and losing badly.
Now its fleet is crippled and stranded in enemy territory.
Their only hope is Captain John "Black Jack" Geary - a man who has emerged from a century-long hibernation to find himself heroically idealized beyond belief.
Now, he must live up to his own legend.
Information
Format: Paperback
Pages: 320 pages
Publisher: Titan Books Ltd
Publication Date: 01/01/2011
Category: Space opera
ISBN: 9780857681300
Free Home Delivery
on all orders
Pick up orders
from local bookshops
Reviews
Showing 1 - 5 of 6 reviews.
Previous | Next
Review by malcrf
16/06/2015
Rather light weight, and in some ways a little juvenile, but I kept picking it up and reading it. When push comes to shove I really rather enjoyed it......!
Review by jessicariddoch
16/06/2015
this could be your standard space opera book. A fleet is lost within the enemy territory and has to battle its way home. Along the way it has picked up a hero thought dead. But it is more that just that.Initially I was surprised as the collection of the hero happens before the book even begins, this I can appreciate as although essential to the plot the story itself would not fit well with the rest of the book. We see the character take a deep breath and leap into action seeing what needs to be done and just doing it, even though he has to fight to do it. the book begins when he takes command of the fleet, which is truly where this story begins.We have the reluctant hero, fighting an image that he knew nothing about and does not think is what he is like. We are introduced to how this has affected the family he has left behind (brothers family as he has no loved ones to miss so no heart breaking crying sissy stuff like that) and how it has affected the whole of society. Can you imagine being a common catchphrase?this is a book about a battle, it is about being a hero by doing the right thing.this is the first of 6 book, with a new series starting that has the smae characters. I am looking into reading them all
Review by BobH1
16/06/2015
A book needs two things to enable me to read it in one sitting: it needs to be quite light weight, nothing too complicatd; and it needs to be engaging and exciting. This book had both and indeed, I read it in one, eight hour, session. I enjoyed it, particularly the character of the main protagonist "Black Jack" Geary and his thought processes.The real problem with these light weight books that you can't read them twice. I'm not sure that this book costing eight pounds for a mass market paperback, gave real value for money. I still look for more than a pound an hour from my books!Yes, I will read the rest of the series, but only when I can find them on the second hand shelves.
Review by othersam
16/06/2015
"Set grapeshot to fire in sequence as we cross the cruiser's estimated path," Desjani ordered. "Charge null-field and stand-by…"How does the line above make you feel? If you think it sounds gung-ho militaristic, clunky, humourless and a bit silly I'm sure you're not alone. Hell, for the first pages of The Lost Fleet: Dauntless by Jack Campbell those were the conclusions I was reaching about this whole book. But then, when I read those words above, something odd happened. An old thrill stirred in my heart, the back of my neck tingled, the corners of my mouth lifted in an enormous grin and I realised: this book is FUN.The Lost Fleet is a series about SPACE BATTLES. If feasibility's your thing it's here if you want it: the author has military experience and takes pride in making sure the battles strictly obey the laws of physics. More importantly for me there's stuff blowing up – and heroism too, as Captain "Black Jack" Geary struggles with the chain of command and the weight of his own reputation in his efforts to bring his fleet home through enemy space and overwhelming odds.This is old-school thrilling sci-fi, the kind I didn't think people allowed themselves to write or to publish any more – or not outside of established (and tired) continuities like Star Trek or Star Wars. I overcame my hesitations. I'm glad I did. And if I was ten I would be eating these books up with a spoon.
Review by shanaqui
16/06/2015
This is pretty solid military SF, compelling enough to keep one turning pages to see how the fleet gets out of the scrape this time. Geary's PTSD is a background issue which I'd like to have seen dealt with head-on -- but that'd get in the way of the pace Campbell's trying to invoke.Ultimately, though, this seems like a rabbithole of a long series. I didn't feel attached to the characters, and while it's competent enough, it's not as compelling to me as, say, the Honor Harrington books. It doesn't seem unique enough to carry on reading the series when I'm already reading David Weber's series. Possibly aimed at a younger audience, too -- I can imagine a teenage boy (or a teen like me and my sister) loving it.I didn't <I>dislike</i> it, but I didn't find enough to like, enough that was unique, to keep me going, anyway. So two stars.