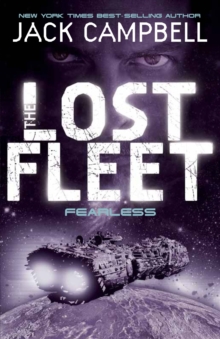 Lost Fleet - Fearless (Book 2)
Paperback
Description
Outnumbered by the superior forces and firepower of the Syndicate Worlds, the Alliance Fleet continues its dangerous retreat across the enemy star system.
Information
Format: Paperback
Pages: 320 pages
Publisher: Titan Books Ltd
Publication Date: 01/01/2011
Category: Space opera
ISBN: 9780857681317
Free Home Delivery
on all orders
Pick up orders
from local bookshops
Reviews
Showing 1 - 2 of 2 reviews.
Review by malcrf
16/06/2015
Easy read, entertaining, but rather light-weight. Perfect for distraction therapy!
Review by crazybatcow
16/06/2015
You really should read the first book in the series before this one, or you will miss a good chunk of the storyline/history. Essentially, this book is just a continuation of the story begun in book one - but both book one, and this one, are sufficiently wrapped up at the end so you don't feel like you've been duped. Though, you will have to get the next book in the series to find out if they reach their next destination.It is "medium" science fiction (as opposed to hard or soft)... there is some space/techie jargon, but you won't be overwhelmed with it, and there is some touchy-feely stuff, but you won't forget you are still reading a science fiction novel.Black Jack Geary is a little more humanized in this installment, and some of the other characters are a bit better fleshed, but, ultimately, this book has John Geary as the centerpiece and everything that occurs is in relation to him.The plot is tense and well paced. The characters are believable and their actions makes sense, even when we disagree with them. There is a bit of moralizing, but it doesn't become lecture-y or annoying. I will read the rest in the series.