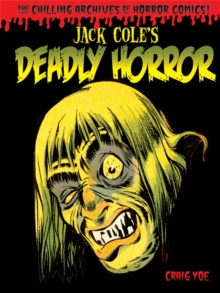 Jack Cole's Deadly Horror
Hardback
Description
Jack Cole is widely acclaimed for his brilliant work on his creation, thesuperhero Plastic Man.
But he didn't just stretch people's imaginations, he alsofrightened them out of their wits!
Cole's comics in this genre were some of themost grisly, horrifying, gut-wrenching art and stories in the history of comics!In Jack Cole's Deadly Horror you'll read comic stories from the 1950swith titles like "Orgy of Death," "Hangman's Horror," "The Corpse That Wouldn'tDie," "The Killer From Saturn," "Goddess of Murder," "Monster of the Mist,""Dance of Death," "The Man Who Died Twice," "The Strangling Hands," "DeathProwls The Streets," "Killer From Beyond," "A Pact With The Devil," and manymore spine-tingling tales.
Introduced by Eisner Award winner and comics historian Craig Yoe with rareart and background material, this large format, full-color book is part of theacclaimed Chilling Archives of Horror Comics, which includes DickBriefer's Frankenstein, Bob Powell's Terror, and Zombies!WARNING: Anti-comics crusader Dr. Fredric Wertham singled out Jack Cole art asespecially harmful to impressionable minds!
Jack Cole's Deadly Horror isnot recommended for the faint of heart!
Information
Format: Hardback
Pages: 148 pages
Publisher: Idea & Design Works
Publication Date: 15/10/2013
Category: Horror & ghost stories
ISBN: 9781613776568