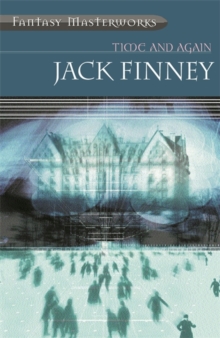 Time And Again : Time and Again: Book One
Paperback
Description
Si Morley is bored with his job as a commercial illustrator and his social life doesn't seem to be going anywhere.
So, when he is approached by an affable ex-football star and told that he is just what the government is looking for to take part in a top-secret programme, he doesn't hesitate for too long. And so one day Si steps out of his twentieth-century, New York apartment and finds himself back in January 1882.
There are no cars, no planes, no computers, no television and the word 'nuclear' appears in no dictionaries.
For Si, it's very like Eden, somewhere he could find happiness.
But has he really been back in time? The portfolio of tintype photographs and sketches that he brings back convince the government.
But all Si wants is to return ...
Information
Format: Paperback
Pages: 400 pages
Publisher: Orion Publishing Co
Publication Date: 09/08/2001
Category: Science fiction
ISBN: 9780575073609
Free Home Delivery
on all orders
Pick up orders
from local bookshops
Reviews
Showing 1 - 5 of 12 reviews.
Previous | Next
Review by ablueidol
16/06/2015
Classic time travel story that evokes the era with drawings and photos so that its real. The time travel is based on the notion of a gestalt switch of seeing/feeling the era. Exploration is corrupted by a Political attempt to manipulate the past to suit USA interests(so what's new!) This is stopped but at a cost. One of the most memorable SF books read and as far as techie action as you can get
Review by kambrogi
16/06/2015
This time-travel classic follows the story of an artist from his present-day life in New York City as he travels (by way of a simple and not entirely believable technique) into the year 1882 in the same city. Since this book was published in 1970, reading it is inadvertently anachronistic, as the "present day" of the novel is in fact past to today's reader. Such details as un-PC attitudes toward women and African Americans, scenes of excessive heavy smoking in closed offices and meeting rooms, and characters' peculiar affinity for instant coffee were somewhat jarring in the contemporary scenes. The illustrations of 1880's New York were an apt touch, however I was a bit put off by images that were obviously etchings or photos being passed off as the artist's drawings. Conflict enters the book late – probably a third of the way in – so the book often reads like a travelogue of the past, focusing primarily on descriptions of street scenes and buildings, comparing them to their parallels today. If you enjoy time travel stories and history, and especially if you live in Manhattan, you might very well enjoy this one. I found it a rather slow and outdated diversion.
Review by melydia
16/06/2015
Though the story is about time travel, this is not what one would commonly consider a science fiction novel. Simon Morley, a bored illustrator living in 1960s New York, joins a top secret government program that sends him back to 1882. Rather than your standard time travel machine, temporal distances are covered through self-hypnosis and a bunch of hand-waving involving vague references to Einstein. But never mind all that. Since the narrator is from modern times, his descriptions of New York of over a century ago emphasize the sorts of things historical fiction would not: the little differences in everyday life, the future locations of certain buildings, that kind of stuff. In terms of nostalgia, it's simply wonderful, and I thoroughly enjoyed learning about life in the late 19th century. Unfortunately, at the end it becomes tiresomely preachy, obsessing over the "good old days" that, as any historian knows, never really existed. The loose ends are also a little too neatly tied up, but by and large the book is a fun look at how people really lived back in the day. I listened to this on audiobook, then discovered the book has sketches and photographs. Perhaps if I'd looked at the paperback copy on my shelf I would have noticed that it was specifically listed as an "illustrated novel" but that's what I get for not paying attention.
Review by jarvenpa
16/06/2015
My oldest son's dad, who was a bookstore owner, loved this book beyond any other and used to stock it in great stacks in the 70's. I think he personally put it into the hands of just about every customer we had.<br/>And when our son grew up, it was one of his favorites as well. <br/>It is charming, romantic, and tender. And it has pictures. What more could you desire?
Review by djenczyk
16/06/2015
Could not bring myself to read this boring boring book. I love time travel stories, but there is so much leading up to any sort of action that I couldn't tell you how the "action" is because I never got that far. I started skimming pages and pages an still nothing. Bah!
Also in the Fantasy Masterworks series | View all