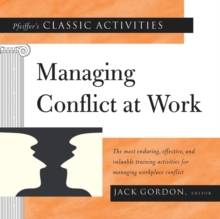 Pfeiffer's Classic Activities for Managing Conflict at Work
Loose-leaf
Description
Learn how to manage conflict in the workplace and benefit from it!
When individuals come together in teams, their personal differences in values and attitudes can often contribute to the creation of conflict.
But, as this book shows, conflict isn't necessarily destructive.
When managed properly, it can actually be beneficial. "Pfeiffer's Classic Activities for Managing Conflict at Work" provides a wide range of different approaches - activities, exercises, and models - to help you understand why conflict occurs and how to manage it.
A compilation of material carefully chosen from three decades of the "Pfeiffer Annuals" and "Handbooks", this valuable resource is a treasure chest of sound theory and practical tools that can be put to use immediately by those who teach and train in conflict management.