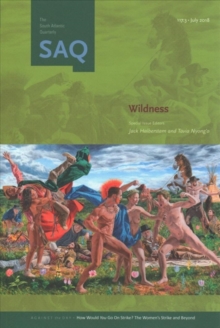 Wildness
Paperback / softback
Description
The concept of wildness within queer studies has generated new vocabularies for historicizing and theorizing modes of embodiment and categories of experience that lie beyond the conventional, institutionally produced, and modern classifications used to describe and explain gender and sexual variance.
Wildness can refer to profusions of plant life, to animal worlds, to crazed and unscripted human behaviors, to the unknown and the uncharted, as well as to wandering and wayward sensibilities, alternative understandings of freedom and power, and to intense moods and unstable environments.
Wildness has functioned as the Other to civilization and plays a distinct role in the racialized fantasies of violence and chaos that underpin white settler colonial imaginaries.
It has also named a realm of activity that lies beyond the domestic and institutional, a realm that confronts medical, legal, and governmental efforts to order, catalogue, and know various forms of life.
Contributors to this issue explore the meaning, function, and challenges presented by the wild and wildness now and in the past, focusing on how wildness relates to new directions in queer studies, animal studies, and the study of embodied difference. Contributors: Vanessa Agard-Jones, Jayna Brown, Jodi A.
Byrd, Mel Y. Chen, Jack Halberstam, Saidiya Hartman, Lamonda Horton-Stallings, Zakkiyyah Jackson, Martin F.
Manalansan IV, Fred Moten, Jose E. Munoz, Tavia Nyong'o, Julietta Singh, Riley Snorton, Wu Tsang, Dinesh Wadiwei
Information
Format: Paperback / softback
Pages: 210 pages
Publisher: Duke University Press
Publication Date: 01/08/2018
Category: Gay & Lesbian studies
ISBN: 9781478000570
Free Home Delivery
on all orders
Pick up orders
from local bookshops