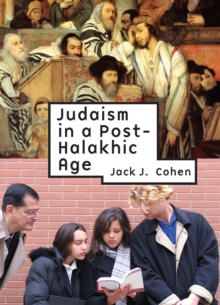 Judaism in Post-Halakhic Age
Hardback
Description
"Judaism in a Post-Halakhic Age" tackles the following questions: What is Halakhah, and what role has it played in the creative survival of the Jewish people for two millennia?
Why is Halakhah no longer capable of functioning as it has until now?
What sort of polity and religious culture can be recommended to replace the Halakhic tradition in an era of freedom, democracy, scientific research and religious pluralism?
The author, however, out of his great respect for the Halakhic culture, asks what it can still contribute to Jewish civilisation and the advance of a united humanity.
Information
Format: Hardback
Pages: 235 pages
Publisher: Academic Studies Press
Publication Date: 15/03/2010
Category: Judaism
ISBN: 9781934843925