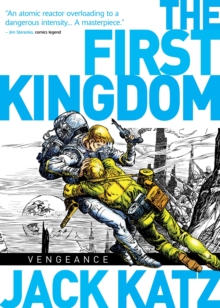 First Kingdom Vol 3 - Vengeance
Hardback
Description
The third volume in the saga created by one of the most unique visionaries in the history of the graphic novel.
In a far and vastly-mutated future, human champion Tundran and his offspring continue to find themselves pawns in a universe-sized game between a new pantheon of gods, demi-gods and monsters!
Modelled on the Homeric epics, this is the graphic novel equivalent of Paradise Lost - a grandstanding future epic, part space opera, part creation myth, with a dab of pulp sword & sorcery fantasy thrown in!
SETTING: Post-apocalyptic future
Information
Format: Hardback
Pages: 208 pages
Publisher: Titan Books Ltd
Publication Date: 25/03/2014
Category: Comics and Graphic Novels
ISBN: 9781782760122