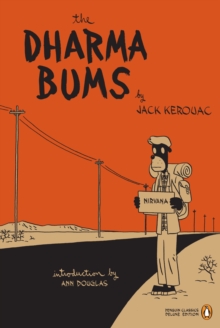 The Dharma Bums
Paperback
Description
Published just one year after "On The Road", this is the story of two men enganged in a passionate search for Dharma or truth.
Their major adventure is the pursuit of the Zen Way, which takes them climbing into the High Sierras to seek the lesson of solitude.
Information
Format: Paperback
Pages: 224 pages
Publisher: Penguin Books Ltd
Publication Date: 01/11/2006
ISBN: 9780143039600
Other Formats
Paperback from £7.59
EPUB from £3.99
Free Home Delivery
on all orders
Pick up orders
from local bookshops
Reviews
Showing 1 - 5 of 5 reviews.
Review by tedmahsun
16/06/2015
Likeable, but hard to read. I have a feeling that Spontaneous Prose is an acquired taste, like wasabi or sambal belacan. On the whole, it is an okay book. I liked Ray's hitch-hiking and freight hopping journeys across the US as well as his musings on life and people. But it's very unlikely I will be reading this again any time soon.
Review by dtn620
16/06/2015
I didn't care for this book. In fact it was boring, pretentious and pseudo-mystical. Kerouac just writes what he did/experienced and the only audience it was intended for was himself. He sits in awe of Japhy, goes on about his enlightening experiences and natural beauty but fails to make it worth reading. To sum the book up: Buddhism, Hitchhiking, train riding, hiking, I am better than you, hitchhiking, enlightenment via Hershey's bar, I do great shit and don't conform.
Review by pbirch01
16/06/2015
In "The Dharma Bums", Kerouac has written another great book about the search for truth and meaning throughout the American countryside. The story is narrated by Ray Smith and is effectively Kerouac telling his own story. Smith and his friend Japhy are wanderers (or bums) in search of the True Meaning or Dharma. The trip covers one year of travels in the life of Smith. His frantic narrative style seems to be fueled by his frequent poorboys of cheap red wine as well as his sheer excitement to be in pursuit of the truth. The story starts in Berkeley, California and visits the Californian desert, Mexico, North Carolina, Seattle and finally ends at Desolation peak in the North Cascades of Washington state. All of these places are reached by hopping on trains, hitchhiking or shelling out a few cents for a bus ride. Interspersed within the descriptions of travel and characters are Zen musings such as "It's all different appearances of the same thing" as well as meditation on different ideals and places. Kerouac never lets the story slow down and regardless of how accurate the Buddhist ideals are, the rambling, jangly story is quite a ride.
Review by NickFG
16/06/2015
I see in the comments a complaint I've heard more often for "On the Road," -- that it's too meandering, no solid plot, difficult to follow, is he really driving across the country again? I argue that Dharma Bums is more linear (and thus perhaps easier to follow) than On the Road, and I encourage folks not to take it as a traditional story in order to enjoy it most. Think of it more like a collection of short sketches with little provoking thoughts and beautiful lines thrown in. Yes, there is a story arc, but why I find this book so incredible, why I try to read it every year, is because I can open up to any old page, read any old line or two, and come away from it feeling misty-minded, slightly confused, slightly wiser, and inspired in some vague way that I can never quite describe. In this way it is almost like a book of Zen koans.
Review by evanroskos
16/06/2015
Kerouac really doesn't care about plot as much as discussing various ideas with a mediocre amount of depth. In many ways, this is the story of Japhy more than Ray, but the focus on Ray's various moments of "enlightenment" and no real character arcs for either man left me yearning for something to happen. The initial mountain climbing sequence is done well, to the point that I felt Ray's sadness at giving up and joy at realizing the point of the trek. But after that moment, the rest of the "novel" meanders, celebrating the details of hitchhiking and parties and Buddhism, but without any thread. By the end, I realized I liked Ray, but nothing had happened worth discussing. <br/><br/>Most frustrating, Kerouac kills any moment of tension that comes up. His "argument" with Japhy is defused immediately. His visit home lacks any clear elucidation of his relationship to the suburban clan. Ray feels sorry for middle class people, but never really acknowledges why, other then that they, too, suffer.