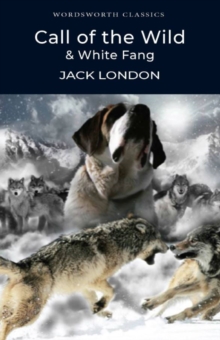 Call of the Wild & White Fang
Paperback
Description
With an Introduction and Notes by Lionel Kelly, University of Reading. The Call of the Wild (1903) and White Fang (1906) are world famous animal stories.
Set in Alaska during the Klondike Gold Rush of the late 1890s, The Call of the Wild is about Buck, the magnificent cross-bred offspring of a St Bernard and a Scottish Collie.
Stolen from his pampered life on a Californian estate and shipped to the Klondike to work as a sledge dog, he triumphs over his circumstances and becomes the leader of a wolf pack.
The story records the 'decivilisation' of Buck as he answers 'the call of the wild', an inherent memory of primeval origins to which he instinctively responds. In contrast, White Fang relates the tale of a wolf born and bred in the wild which is civilised by the master he comes to trust and love.
The brutal world of the Klondike miners and their dogs is brilliantly evoked and Jack London's rendering of the sentient life of Buck and White Fang as they confront their destiny is enthralling and convincing.
The deeper resonance of these stories derives from the author's use of the myth of the hero who survives by strength and courage, a powerful myth that still appeals to our collective unconscious.
Information
Format: Paperback
Pages: 256 pages
Publisher: Wordsworth Editions Ltd
Publication Date: 05/05/1992
ISBN: 9781853260261
Other Formats
Paperback from £3.89
Hardback from £6.89
EPUB from £1.07
PDF from £2.54
Free Home Delivery
on all orders
Pick up orders
from local bookshops
Reviews
Showing 1 - 3 of 3 reviews.
Review by reading_fox
16/06/2015
Two counterpoint stories of a dog gone wild and a wild gone dog. Both unfortunately suffer from the same flaws which are at times mitagated by some decent moving prose, but mostly it just drags. Call of the wild: Buck is a hefty mogrel, dognapped out of a Californian comfy life to help power the late 1800s goldrush as a sled dog. Despite being a domesticated dog for 10000 years or so Jack London imparts him (and no others) with the instincts of a wolf, an some very unbelivable 'yearning' to 'go back to nature' which is just victorian melodrama of the worst anthromorphisation. Apparently his large dog build gives him a competitivie advantage over evolution's million years of perfecting a wolf. White fang is almost as bad, White fang being a wolf quarter dog hybrid (already pretty improbable) suddenly decides for no explained reason other than 'racial memory' which doesn't exist that humans are automatically good. I have no issues with a wolf being tamed, all animals can be tamed, but it's a specific process not a genetic compulsion. And he reverts from a wild creature to a sled dog over the course of a slightly longer novel. Interspersed with these annoying inaccuracies are tediously long descriptions sometimes of the dogs mental states, followed byt he disclaimer that they aren't feeling as a human would. It's all just annoying. There are pages of and pages of dog fights too, slash turn run away shoulder barge slash. etc. The good bits in both stories are the occasionally moving portrayals of how the dogs interact with man. Probably best read if you don't own a dog, but do kind of like them.
Review by Choccy
16/06/2015
This probably will be one of my all time fave of animal books. Makes me think whether Jack himself was a reincarnation of a wolf himself, becoz his description is so damn real.The setting is around the end of the 19th century. The Call of the Wild tells about Buck, a normal house-bred dog who was kidnapped and brought to Alaska to be a sled dog. There he has to face a brutal and merciless world with its "law of club and fang". The description on how he was decivilized, until finally he answers "The Call of the Wild", to become a leader of a wolf pack is so touching yet horrible.On the contrary, White Fang tells a story about a wolf, born in the wild, but finally has to grow among the Indians and educated to be a sled dog. Because his owner had a debt due his liquor addiction, he was sold to a wicked white man who made him become a fighting wolf and had to face life and death at the arena. Similar with Buck, White Fang must learn how to surrender himself completely to a new situation. It gave me the creep when I read the author's desription about the submission process of a wolf to the hands of men. Domestification is not as simple as you think….Truly a splendid reading. You'll learn (again) that the world can be so cruel and only the strong will prevail.
Review by scottbrown88
16/06/2015
I came to these books having read John Krakauer's Into the Wild, the story of Chris McCandless. Chris had read these book that inspired him to go on his epic adventure to Alaska that led to his death. Being Highly interested in that story I was compelled to read these two stories. I have read The Call of the Wild and am 2 chapters into White Fang. I really did love the former and I can see why it was the inspiration of McCandless. Following the story from the view point of Buck, the cross-breed house dog who was kidknapped to the hard wilds of the Northlands was written fantastically and in a believeble manner. Great story and portrayal of the relationship between man and dog. Highly recommend this book, and I look forward to completing White Fang
Also in the Wordsworth Classics series | View all