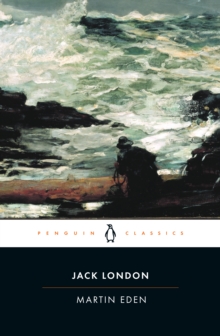 Description
The semiautobiographical Martin Eden is the most vital and original character Jack London ever created.
Set in San Francisco, this is the story of Martin Eden, an impoverished seaman who pursues, obsessively and aggressively, dreams of education and literary fame.
London, dissatisfied with the rewards of his own success, intended Martin Eden as an attack on individualism and a criticism of ambition; however, much of its status as a classic has been conferred by admirers of its ambitious protagonist. Andrew Sinclair's wide-ranging introduction discusses the conflict between London's support of socialism and his powerful self-will.
Sinclair also explores the parallels and divergences between the life of Martin Eden and that of his creator, focusing on London's mental depressions and how they affected his depiction of Eden.
Information
Format: Paperback
Pages: 480 pages
Publisher: Penguin Books Ltd
Publication Date: 01/02/1994
ISBN: 9780140187724
Other Formats
EPUB from £1.39
Paperback from £4.99
Paperback / softback from £8.15
Hardback from £17.75
Free Home Delivery
on all orders
Pick up orders
from local bookshops
Reviews
Showing 1 - 4 of 4 reviews.
Review by montano
16/06/2015
A semi-autobiographical story about a young man from the lower class in San Fransciso who meets an upper middle class girl. The meeting opens his eyes to a whole new world of luxury and sophistication. His infatuation with the beautiful girl drives him to improve himself and he turns to writing as a means of work and expression. A seemingly simple tale of rags-to-riches but with dark overtones.
Review by JBreedlove
16/06/2015
Jack London writes well. This semi-autobiographical tale set in turn of the century Bay Area in California relates the struggles, triumphs and ultimate surrender of Martin Eden. The book was an easy read and written so well that it kept my interest throughout. I was getting tired of his refusals but finally he wins out. But after all that struggle he becomes empty. I was surprised by the ending. His death throes were, once again, written well.
Review by Soska
16/06/2015
In my opinion one develops a taste for London when young - ready for an Adventure... But he can be appreciated at any age and read many times, each time offering something new. And so Martin Eden, after the initial head spin at - say - 13, caused by the hero's valiant struggle, his rise and (inevitable) fall, becomes "simply" a very good read. No trivia, just Life.
Review by RussellBittner
16/06/2015
Given that <I><B>Martin Eden</B></I> is the most autobiographical work Jack London ever wrote (this, according to Andrew Sinclair, who wrote the Intro), we have to believe that the author actually lived most of what he writes. If so, the work should be mandatory reading for anyone contemplating a writing career at the cost of a day-job.<br/><br/>If any of us should still believe that 'the road less traveled' is a glorious one, this work will cure him or her of that illusion. But for an occasional fluke (which aspiring writers and the publishing world alike all feed upon), the writer's life – if Jack London's is a fair example, and I believe it is – is one of poverty and debilitation – if not downright humiliation. Oh, and did I mention hunger?<br/><br/>But no matter. Go and feast on the ideal if you insist. Just know that the ideal contains damned few calories.<br/><br/>At one point, Martin Eden (the eponymous principal character of this novel) actually does achieve fame and fortune. Is this, then, a kind of 'Cinderella story?' Without giving away the actual conclusion of London's novel, I'll allow you a glimpse via some of his principal character's ruminations: "And always was Martin's maddening and unuttered demand: Why didn't you feed me then? It was work performed. "The Ring of Bells" and "The Peri and the Pearl" (two of the fictional writer's short stories) are not changed one iota. They were just as artistic, just as worthwhile, then as now. But you are not feeding me for their sake, nor for the sake of anything else I have written. You're feeding me because it is the style of feeding just now, because the whole mob is crazy with the idea of feeding Martin Eden" (p. 450).<br/><br/>Antiquated if not downright flawed though it and he may be, I suspect that <I><B>Martin Eden</B></I> (the novel) and Martin Eden (the novel's protagonist) are – just as is London's superb short story, "To Build a Fire" – memories to last a lifetime. In this age of rampant self-publication and an unbridled quest after the glory of artistic recognition – but in which so few are willing to do the work London obviously did to achieve recognition for his work – this novel should stand as both Bible and roadmap. Or as Dante once wrote over the gates of Hell, "Abandon all hope, ye who enter here."<br/><br/><B>RRB<br/>Brooklyn, NY, U.S.A.<br/>07/17/14</B><br/>
Also in the Penguin Modern Classics series | View all