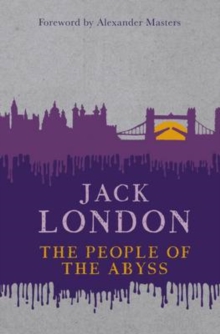 The People of the Abyss
Paperback
Description
A profound and moving piece of investigative journalism, The People of the Abyss, Jack London's study of East London's underworld remains, a century after it was written, a timely tale of poverty and injustice. Best known for his fiction such as White Fang and The Call of the Wild, Jack London was also a passionate social activist.
In 1902, he purchased some second-hand clothes, rented a room in the East End, and set out to discover how the London poor lived.
His research makes shocking reading. Moving through the slums as one of the poor; eating, drinking and socialising with the underclass; queuing to get into a doss-house, London was scandalised and brutalised by the experience of living rough in Britain's capital.
His clear-eyed reflections on the iniquities of class are a shaming testament to the persistence of social inequality in modern Britain.
Information
Format: Paperback
Pages: 244 pages, Illustrations
Publisher: Hesperus Press Ltd
Publication Date: 25/09/2009
Category: Humamities
ISBN: 9781843914501
Other Formats
Paperback from £7.75
Paperback / softback from £6.75
Hardback from £15.15
Free Home Delivery
on all orders
Pick up orders
from local bookshops
Reviews
Showing 1 - 5 of 9 reviews.
Previous | Next
Review by Fluffyblue
16/06/2015
The old adage, "You can't judge a book by it's cover" certainly applies in the case of this particular book. Hesperus have put together a really lovely thick cover and good quality pages. I wanted to like it, I really did, and it initially started off well, being about poverty in London in the early 1900's. I wanted to be interested because my grandparents were born around 1910, and so not so far into the future of London's study of the people of London, which was 1902. I felt that he barely touched the surface of the people of the East End's lives, he wrote about the dire circumstances in which those people lived, and although you could sense his anger, I felt that all the time he was comparing our lives to those of those living in poverty in America, who he considered to be much better off. The book ended up being a chore to read and I forced myself to finish the last quarter of it, although I'm sure I didn't take much of it in.
Review by Booksloth
16/06/2015
"It is rather hard to tell a tithe of what I saw. Much of it is untellable. But in a general way I may say that I saw a nightmare, a fearful slime that quickened the pavement with life, a mess of unmentionable obscenity that put into eclipse the 'nightly horror' of Picadilly and the Strand. It was a menagerie of garmented bipeds that looked something like humans and more like beasts, and to complete the picture, brass-buttoned keepers kept order among them when they snarled too fiercely."That was what Jack London saw on his first visit to the London docks and, despite his claim that it is 'rather hard to tell', this marvellous book does a better job of telling it than many another work, either of fiction or of history, that attempts to bring to life the squalor of 19th century London.It was in 1902 that London (the author) visited London (the city) and lived as an out-of-work man on its streets while investigating the lives of the thousands of men and women for whom that was an everyday reality. The stories that feature here are some of the most heartbreaking you will find anywhere. The vicious circle of near-endless searching for a place to sleep or a crust to eat - a search that left little time for the most important job of all, looking for work, demonstrates the unfairness of a system in which a person, once caught up in it, can only spiral further and further down to the depths (the 'abyss') that can only end in death - from starvation, disease or suicide.It is not so much the appalling conditions in which life had to be lived as the sheer inability for anyone, once caught up in this spiral, ever to emerge from it that so raises the hackles of both reader and writer and it is to London's credit that the majority of the book is written in a white hot fury. He apportions blame wherever it is due - with the government, the rich, even the charities and social workers who do their best to relieve the conditions but from a position of very little understanding.Just how much social change was brought about by this book at the time of publication I do not know. Sadly, no book can ever do quite enough and the number of people still (over 100 years later) sleeping on the streets in the capital are evidence of that but perhaps this reissue will do something, if not to change that situation, then at least to help the rest of us understand a plight we can only be grateful we do not have to experience ourselves.A superb book - not just angry, righteous and worthy but a damn good read too.
Review by AuntieCatherine
16/06/2015
First off let me say how much I like Hesperus Press editions. They are sturdy, well-made paperbacks, whose covers have been lengthened an inch or so and then turned in, like a book jacket. The paper is good and the print excellent. I have a set of their Dickens Christmas anthologies, which include the contributions by other people, and they are excellent. I have to say I didn't enjoy this one as much as those.If you've read Orwell - Road to Wigan Pier and Down and Out in Paris and London - or Henry Meyhew - London labour and the London Poor, you'll have found the same information better presented. Jack London was a poverty tourist, he dipped his toe into the tide of human misery but made sure he could scuttle back to better living pretty sharpish. That's not to say there aren't some good things, the stories of the individuals he met, his compassion for the underworld (by which he meant the underclass rather than criminals) and his perception that, once a person began the fall from even relative prosperity, it was next to impossible to get out of the Abyss. Less successful - his quoting of more systematic researchers and a rather brash Yankee triumphalism - he is forever claiming that the American poor did much better, though it is plain by this he meant white Americans, I doubt African-, Native- and Chinese-Americans of the period would have been quite so sanguine.
Review by robertgriffen
16/06/2015
The People of the Abyss - Jack London - published by Hesperus Press Limited."Where home is a hovel, and dull we grovel,Forgetting the World is fair." William Morris, The Voice of Toil.A quotation to the start of the Chapter on Children in this striking work by Jack London, written in 1903.If this reflection by William Morris was true in Jack London's eyes in 1903, sadly and with great shame it has to be said that nothing has changed for the many, today.Accepting that Jack London was looking for the worst situations he could find and his personal background and experiences, the comments and opinions he offers are nevertheless sound. Reading this book I found all too often quite painful. All the more so because my own father was an infant of seven when this was written, living in the suburbs of London, born into a family of fourteen living in a three bedroomed terraced house. Of the fourteen children born ten survived to adult hood. By the evidence recounted by Jack London, that so many survived was exceptional.It is impossible reading the many examples he gives, not to feel that there has been little if any improvement in the lives of those today who are existing in conditions not better than he describes. The gap between those who have plenty and those who have nothing then was great and today I fear it remains so, to an even greater extent.Any serious student of social history will easily find that his research has a bias that tends to over dramatise some situations but accepting that, the stories he tells make compelling reading and do provide a very real picture of the conditions existing at that time. It would be wrong to ignore the humanity that comes from his views. He was, as would any civilised person, deeply disturbed by his experiences.This is a well produced book and Hesperus Press have provided a clear and easily read edition that reflects well the nature of the original story. I have not seen the original edition although I have seen later editions produced in 1913. This new one is faithful in all ways to the original and makes a good addition to any library.
Review by Bengan
16/06/2015
This is a very interesting book set in London in the first decade of the twentieth century. You can read it as a social history as long as you remember what Alexander Masters writes in the foreword to the book; 'as an objective, trustworthy analysis, Abyss won't do at all'.In 1902 Jack London moves temporarily into East End, disguised as a poor inhabitant. He observes and tells us about how the poor in East End live and how they go about their daily chores.Even if not everything in the book is considered trustworthy the stories tell us a lot of the persistence of social inequality in Britain. The atmosphere is vividly described and all that happens in the book seems genuine.Besides the stories of different people there are statistics, all showing the misery the working class lived in during the first years of the twentieth century.All together the book is absolutely worth reading, especially if you are interested in the history of England.