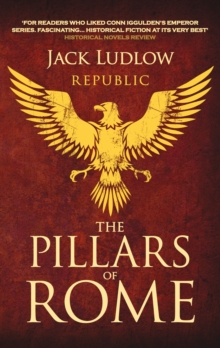 Pillars of Rome
Paperback
Description
With barbarians at the gate and enemies within, two men must fight for the soul of the Republic and the greatest empire in the world.
A cave hacked out of the rock, lit by flickering torches - two young boys appeal to the famed Roman oracle for a glimpse into their future.
The Sybil draws a blood-red shape of an eagle with wings outstretched.
An omen of death. As they flee from the cave in fear, Aulus and Lucius make an oath of loyalty until death.
An oath that will be tested in the years to come. Thirty years on and Aulus, now Rome's most successful general, faces his toughest battle.
Barbarian rebels have captured his wife, and are demanding the withdrawal of Roman legions from their land in return for her life.
It is unthinkable for Aulus to agree, and he fears her life must be forfeit to Rome.
Meanwhile, Lucius has risen to high rank in the Senate; a position he uses and abuses.
But when Lucius is suspected of arranging a murder, the very foundations of the Republic are threatened.
Lucius and Aulus soon find themselves on very different sides of the conflict - perhaps the prophecy of the eagle will come true after all. History and adventure, brutality and courage combine to powerful effect, making "The Pillars of Rome" an outstanding opening to the "Republic" series.
Information
Format: Paperback
Pages: 528 pages
Publisher: Allison & Busby
Publication Date: 11/01/2010
Category: Historical adventure
ISBN: 9780749009472
Free Home Delivery
on all orders
Pick up orders
from local bookshops
Reviews
Showing 1 - 1 of 1 reviews.
Review by janerawoof
27/08/2015
The two pillars of Rome were the Law and the Military. Two young boys, Aulus and Lucius, are given a prophecy that begins to be filled during the course of this novel: "One shall tame a mighty foe/the other strike to save its fame/neither will achieve heir aim. Look aloft if you dare/though what you fear cannot fly/both will face it before you die." They pledge blood brotherhood and eternal friendship. Years pass; Aulus becomes a renowned military general, winning a triumph through his defeat of Brennos, a Celt-Iberian who has united the tribes in Spain. Ever after, Brennos harbors revenge. Lucius becomes a well-known, influential senator. Each has a son; one is exposed in an out-of-the-way place in the woods to die, rescued by a poor man, Clodius, and raised by him and his wife. They name him Aquila, since he had been found with an amulet of an eagle. In contrast, Lucius's son, the only child Marcellus, is rich and given every advantage. The novel takes us through the lives of all these characters and how their fates begin to intertwine. First we see before a fateful battle in Illyricum [the Balkans] the meeting of the general and Clodius, who has been convinced to substitute as a legionary for his neighbor. There were several poignant episodes where I teared up. I liked the character development. Each had a distinctive personality. This novel was written well, flowed easily and was easy to follow. I recommend this novel highly. I am eager to read the sequels.