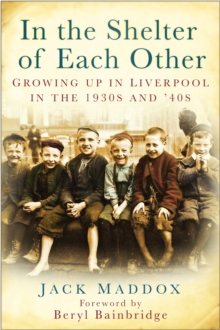 In the Shelter of Each Other : Growing Up in Liverpool in the 1930s & 40s
Paperback / softback
Description
In the Shelter of Each Other is a wonderful collection of childhood reminiscences of Liverpool from the 1930s and 40s.
In 1932 England was out of work. The mills were silent and the river ships were rusting at anchor.
The king was ageing and his successor remained unmarried.
In Germany Adolf Hitler was coming to power and had begun claiming lost territories.
Everything was uncertain and shadows of war appeared on the horizon.
Where would it all end? This was probably the wrong time and place to arrive in the world, but Jack Maddox appeared all the same.
His childhood was spent in a dockside pub in the roughest, toughest part of the great city and he was introduced at an early age to the school of hard knocks.
Brought together by their joint poverty, the people who inhabited this area shared what little they had and a strong community spirit was in evidence.
Few had much, but nobody died alone. JACK MADDOX was born in Liverpool in 1932 and was brought up in an area of poverty.
The memories of his dockside upbringing are brought together in this, his first book.
Information
Format: Paperback / softback
Pages: 224 pages
Publisher: The History Press Ltd
Publication Date: 24/07/2008
Category: Local history
ISBN: 9780750951029