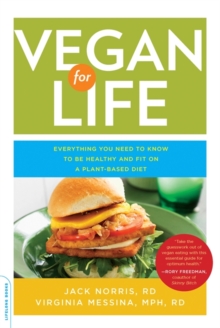 Vegan for Life : Everything You Need to Know to be Healthy and Fit on a Plant-Based Diet
Paperback
Description
Are you considering going vegan, but you're not sure how to start?
Are you already committed to an animal-free diet, but are unclear about how to get proper nutrients? Vegan for Life is your comprehensive, go-to guide for optimal plant-based nutrition.
Registered dietitians and long-time vegans Jack Norris and Virginia Messina debunk some of the most persistent myths about vegan nutrition and provide essential information about getting enough calcium and protein, finding the best supplements, and understanding the "real deal" about soy.
Covering everything from a six-step transition plan to meeting calorie and nutrient needs during pregnancy and breastfeeding, Vegan for Life is the guide for aspiring and veteran vegans alike, complete with an easy-to-use food chart, tasty substitutions, sample menus, and expansive resources.
Information
Format: Paperback
Pages: 304 pages
Publisher: INGRAM PUBLISHER SERVICES US
Publication Date: 12/07/2011
Category: Diets & dieting
ISBN: 9780738214931
Free Home Delivery
on all orders
Pick up orders
from local bookshops
Reviews
Showing 1 - 3 of 3 reviews.
Review by schatzi
16/06/2015
I've been an "almost vegetarian" since before I can remember. According to my mother, I never really liked meat; she'd give me a hamburger, only to find me eating the bun and condiments with the dog licking her chops. Once in a while, particularly when I was in a hurry, I'd get something - usually fish, which seemed more palatable to me than red meat. So I was nearly a vegetarian, but definitely not a vegan. In spite of lactose intolerance, I would still consume dairy products (and copious amounts of lactaid). If I had to eat one food for the rest of my life, it would have been sharp cheddar cheese. I ate Greek yogurt like it was candy. And I loved eggs.But then I went through a learning phase, and I wanted to know where my food came from and how ethically the cows providing my milk, cheese, and yogurt were treated. And I wasn't happy with what I found. "Organic" eggs and "hormone free" milk sounds good on the label, but does that really matter when the chickens are battery farmed or the cows are hoof-deep in feces? No thanks. So this was the first book I read about going vegan. When I first started it, I felt completely daunted by the task ahead of me. Fortunately, the authors really laid out a simple plan in this book. They discuss a vegan's total dietary needs and how you can meet them. Now that I'm aware of what I need and how to get it, I honestly feel that I'm eating a much more balanced diet than I ever did when I consumed animal products. Getting enough calcium was always a problem for me, even as I ate cheese and yogurt, but now I just drink two cups of Silk a day (one in the morning, one at night) and have some soy yogurt for lunch. Problem solved. Fatty acid chains? I didn't even know what those were. Now I eat a handful of walnuts a day, as well as take DHA supplements. Problem solved. Vitamin B12? Where do I get that? Now I take a supplement. Problem solved. The book also provides chapters dealing with pregnancy, children/teens, and vegan diets for people over 50.The book contains evidence from numerous studies. If there isn't enough information about a topic, then the authors clearly state that. The only thing I don't like is how the book is ordered. I think the last chapter (which deals with animal cruelty and factory farming) should have probably been the first one. Instead, it's buried behind the specialty chapters mentioned above. Altogether, this is a great resource for those who want to become vegans (for whatever reason[s]), but simply don't know how to go about it and meet nutritional needs.
Review by Jessica_Olin
16/06/2015
Helpful and useful and written in an accessible manner. What more could you want?
Review by samanthadeirdre
16/06/2015
This book is a great intro to a vegan diet. Written by a pair of nutritionists who are vegan themselves, it provides an easy-to-decipher break down of the nutritional needs of vegans, including special sections for teens, children, pregnant women and elders. The authors acknowledge that there are many different reasons people may choose a vegan diet, and while they do not hide their own views (both are vegan for animal rights reasons), they save the political stuff for the last chapter. This is a solid, educational and easy-to-understand primer.
Also by Jack Norris