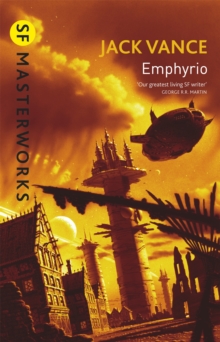 Description
Far in the future, the craftsmen of the distant planet Halma create goods which are the wonder of the galaxy. But they know little of this. Their society is harshly regimented, its religion austere and unforgiving, and primitive - to maintain standards, even the most basic use of automation is punishable by death.When Amiante, a wood-carver, is executed for processing old documents with a camera, his son Ghyl rebels, and decides to bring down the system.
To do so, he must first interpret the story of Emphyrio, an ancient hero of Halman legend.
Information
Format: Paperback
Pages: 208 pages
Publisher: Orion Publishing Co
Publication Date: 01/10/1999
Category: Science fiction
ISBN: 9781857988857
Free Home Delivery
on all orders
Pick up orders
from local bookshops
Reviews
Showing 1 - 5 of 5 reviews.
Review by argonheart
16/06/2015
Impressive style, interesting ideas and a melancholy atmosphere: this is probably Vance's finest singleton.
Review by duhrer
16/06/2015
Yet again I am delighted to have encountered (through the Gollancz SF Masterworks series) a book I would never otherwise have read.Ghyl Tarvoke is a curious young man, who drifts aimlessly through his young world, allowed by his father the freedom to live somewhat outside the strictures of society. When his father is killed for contradicting the simplistic understanding of the police and judiciary, Ghyl rises beyond his childhood dreams of star flight and adventure to uncover truths worth sharing.The story unfolds slowly, with a tempo that only gradually rises in the second act, and which finally hits its stride well into the third act. Vance takes the time to build the environment of his characters in lavish (but never tiring) detail. Thus, we care when Ghyl makes his break from polite society, and delight when the rough cloth of his society finally shows signs of unraveling.This is a very good book, well worth the time to read.
Review by ropie
16/06/2015
Certainly not an average writer is Jack Vance. Emphyrio is perhaps the most highly regarded of his stand-alone novels. In it, Ghyl, the young hero, is on the trail of a fabled being of yore, the eponymous Emphyrio, and finds himself using the same name in a bid to overturn the wrong-doings of the revered Lords of his isolated home planet. The novel has a pulp-ish charm to it - a simple, brave protagonist in an exotic but faintly barbaric world, where gentle craftspeople carve out an existence for themselves largely for the benefit of the upper classes. Vance weaves a delicate and enchanting society, one not without credibility and parallels with sections of out own planet (which also makes a brief appearance as a sort of legendary cradle of civilization) and knows how to raise the emotion of the reader with just a few well-placed lines. To me this is a sort of space fantasy, where 'space yachts' can skip over the light years as easily as we can walk to the shops and most problems can be resolved within a few paragraphs, but this is all for the betterment of the flow of the action, of course. I actually can't think of a bad word to say about this book and look forward to reading more Vance.
Review by salimbol
16/06/2015
Some intriguing world-building with a clever mingling of the old and the new, social commentary that mingles light but still bitter cynicism and absurdity to great effect, jewel-bright prose and a bit of a mystery to unravel - all of this made Emphyrio a pleasure to read. However, the slow and fairly delicious buildup of the story is marred by the rather abrupt and perhaps too romantic ending, meaning that the preceding narrative felt as if it was shot through with a foreboding that wasn't warranted.
Review by questbird
16/06/2015
Quite good, end is a bit abrupt.
Also in the S.F. Masterworks series | View all