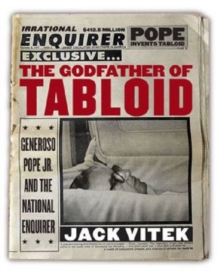 The Godfather of Tabloid : Generoso Pope Jr. and the National Enquirer
Hardback
Description
Constantine Samuel Rafinesque was a quintessential nineteenth-century American scientist and naturalist.
Exalted by some, cursed by others, Rafinesque gave Latin names to over 6,700 plant species, was acknowledged by Darwin for his early insights into biological variation, and is frequently mentioned in the great natural history archives.
Yet he has been almost forgotten in our own day. During his long career, which included some five years as an innovative professor at Transylvania University in Kentucky, Rafinesque's colorful and sometimes difficult personality led to troubles with his colleagues.
In Constantine Samuel Rafinesque, the first full-length biography of this brilliant, original, and misunderstood naturalist, Leonard Warren presents a fair and surprising look at Rafinesque's life and contributions to the world of science.
Information
Format: Hardback
Pages: 296 pages, 10 photographs
Publisher: The University Press of Kentucky
Publication Date: 05/09/2008
Category: Biography: general
ISBN: 9780813125039