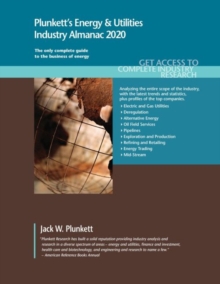 Plunkett's Energy & Utilities Industry Almanac 2020
Paperback / softback
Description
Formally, Plunkett's Energy Industry Almanac, this in-depth reference tool to the energy industry covers everything from major oil companies to independents, utilities, pipelines, coal, LNG, oil field services, refiners and more.
It features our famous trends and technologies analysis, and includes statistical tables, a glossary and our unique profiles of The Energy 500 Firms.
The energy industry is boiling over with changes. Deregulation, new opportunities in foreign fields and markets, as well as environmental challenges are rushing together head-on to shape the energy and utilities business of the future.
Meanwhile China has become a major energy importer and Russia has become a major exporter.
Renewable and alternative energy sources are developing quickly, including big investments in wind power and solar power.
This exciting new reference book covers everything from major oil companies to electric and gas utilities, plus pipelines, regulatory issues, investments, finance, research and development, refiners, retailers, oil field services and engineering.
Petroleum topics include upstream and downstream. Additional topics include coal, natural gas and LNG.
Statistical tables cover everything from energy consumption, production and reserves to imports, exports and prices.
Next, our unique profiles of the Energy 500 Firms are also included, with such vital details as executive contacts by title, revenues, profits, types of business, Internet addresses, growth plans and more.
You'll find a complete overview, industry analysis and market research report in one superb, value-priced package.
Information
Format: Paperback / softback
Pages: 677 pages
Publisher: Plunkett Research, Ltd
Publication Date: 30/12/2019
Category: Electrical power industries
ISBN: 9781628315516
Also in the Plunkett's Industry Almanacs series | View all