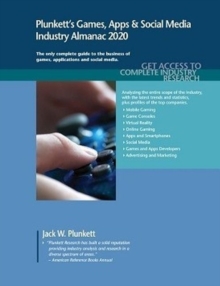 Plunkett's Games, Apps & Social Media Industry Almanac 2020
Paperback / softback
Description
Electronic Games have become so large in scope as an industry, and so wildly popular on a global basis, that they generate more that $150 billion yearly.
For comparison, this means that the electronic games industry is nearly four times larger than the total amount of movie revenues at the box office worldwide.
The fact that games can be played on mobile devices is adding dramatically to their growth.>Big news in electronic games is the growing number of enthusiasts who are interested in gathering, in-person, to watch other people play them.
Gaming as a spectator sport is attracting viewers in the millions, most of whom pay for the experience.
This trend is known as eSports. Players can be amateurs or professionals, depending on the venue.
By one estimate, global revenue for eSports will reach $1.5 billion by 2020. eSport viewing is growing at a staggering rate. For example, 128 million people watched the League of Legends Mid Season Invitational 2018 online, compared to 103 million who watched the NFL Super Bowl 2018 on television. eSports are particularly popular in China, where 135 million people watched on a regular basis in 2018. />In late 2014, Amazon acquired Twitch Interactive, Inc., an internet video channel for broadcasting and watching people play games, for $970 million.
By 2018, Twitch reported 560 billion minutes of content watched for the year, 3.4 million unique broadcasters every month on average and 1.07 million average concurrent viewers.>eSports are in the mainstream on college campuses where teams are competing in tournaments for tuition money and other prizes.
As competition (and prize money) grows, a niche for videogame coaches has opened up, both on college campuses and in other tournament play.
For example, Riot Games, Inc. runs tournaments in which 116 teams compete worldwide, and each of those teams has at least one coach on staff, with salaries of between $30,000 and $50,000 annually.>Special stadiums dedicated to eSports games are being built around the world.
In late 2018, the city of Arlington, Texas opened a 100,000 square-foot complex named Esports Stadium Arlington.
This is a logical investment by the city, as it is already the home of the stadiums of both the Texas Rangers MLB team, and the Dallas Cowboys NFL football team.
A firm called Allied Esports International has planned or opened several eSports stadiums, including locations in the U.S. (California and Las Vegas), as well as cities in China and Germany.
For everything you need to know about the global electronic games industry, see: Plunkett's Games, Apps & Social Media Industry Almanac 2020For everything you need to know about the global electronic games industry, see:Plunkett's Games, Apps & Social Media Industry Almanac 2020
Information
Format:Paperback / softback
Pages:307 pages
Publisher:Plunkett Research, Ltd
Publication Date:30/07/2019
Category:
ISBN:9781628315349
Also in the Plunkett's Industry Almanacs series | View all