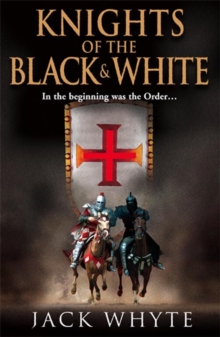 Knights of the Black and White Book One
Paperback
Description
The exciting first book in a brand new fictional trilogy about the most important events in the history of the Order of the Knights Templar.The Templars represent a widely popular period of history, but the roots of their fellowship have been shrouded in contemporary conspiracy theory and media glamour....this trilogy tells the true tales of the Knights Templar; beginning with why they formed after the First Crusade and why they continued to grow in power and influence.Immediately after the deliverance of Jerusalem, the Crusaders, considering their vow fulfilled, drifted back to their homes.
But some considered that the defence of this precarious conquest, surrounded as it was by Mohammedan neighbours, still remained.
In 1118, during the reign of Baldwin II, Hugues de Payens, a knight of Champagne, and eight of his companions bound themselves by a perpetual vow, taken in the presence of the Patriarch of Jerusalem, to defend the Christian kingdom and all god fearing pilgrims who wished to visit the Holy Land.
Baldwin accepted their services and assigned them a portion of his palace, adjoining the temple of the city; hence their title "pauvres chevaliers du temple" (Poor Knights of the Temple).
Information
Format: Paperback
Pages: 560 pages
Publisher: HarperCollins Publishers
Publication Date: 01/10/2007
Category: Historical fiction
ISBN: 9780007207459
Free Home Delivery
on all orders
Pick up orders
from local bookshops
Reviews
Showing 1 - 2 of 2 reviews.
Review by wyvernfriend
16/06/2015
The Holy Blood and the Holy Grail told us that the Knights Templar had secrets, probably to do with the family of Christ, and definitely to do with the Temple of Jerusalem. This book takes that idea and runs with it. Speculating that the Knights Templar are an offshoot of an order that has descended from the Essenes and are gnostic inheritors of all of that. A secret order that has a number of families and a restricted membership. Because all the members are knights, many of them go to Jerusalem on Crusade and through various paths end up creating the Knights to achieve their goal of finding the treasure under the Temple.Princess Alice is one of their main opponents and she's displayed as mad, bad and dangerous to know. A woman with smarts who doesn't have enough to do and lots of time to do it.It's not a great book, it's full of historical flaws and it could have been edited down severly and not lost the plot, as it is it clunks a bit and there were times I nearly lost my interest, however, it kept me reading and I'm thinnking about reading the next in the series. I can wait though, curiousity to see how things go rather than wanting more of the story is driving me for this one.
Review by Helenliz
16/06/2015
 Oh deary me. It had such promise. A trilogy (this being the first) telling the story of the founding, flourishing &amp; sudden decimation of the Templar knights sounded like a rip-roaring tale. How very wrong. At 548 pages, this is easily twice as long as it needed to be. He gets badly sidetracked into long conversations and descriptions that don't advance the story any. The characters are a bit one dimensional and I'm fairly sure he gets confused as to who is where and related to whom at various points along the way. <br/>And then he felt the need to invent some ridiculous secret order that are from Christian families, but claim a direct line of descent from a bunch of Jewish priests exiled from Jerusalem in the first century. Really? And then, towards the end, there's an Egyptian temple connection - all highly improbable. The pages and pages and pages of hocus pocus that got spouted about reforming the church and how the secret order would change the world were really not worth the effort. I haven't read such tosh since Dan Brown. Put it this way, no way am I seeking out volumes 2 &amp; 3.