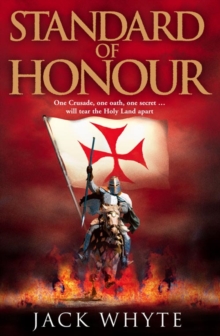 Standard of Honour
Paperback
Description
The story of the rise and fall of the powerful and mysterious Knights of the Temple: the Third Crusade under Richard the Lionheart.It is sixty years since the secret Brotherhood of Sion, founders of the Knights Templar, uncovered the treasure vouchsafed them beneath the Temple Mount in Jerusalem.
Now the ambitious and ruthless Plantagenet King Richard the Lionheart leads the Third Crusade against Saladin, and both the honour of the Templars and the mission of the Brotherhood are at risk.Andrew Sinclair is one of the few survivors of the Battle of Hattin in 1187.
As a member of the clandestine Brotherhood he was taught Arabic before being sent to the Holy Land on a mission that neither the Order of Templars nor the leaders of the Pope's armies can know of.
Sinclair's captivity following the battle led to his friendship with the infidel and threatened to divide his loyalty.
One of the great secrets of the Brotherhood is that they are not Christians, unlike the Templars.Sinclair's cousin and fellow member of the Brotherhood, Sir Andre St Clair, arrives with Richard from Cyprus.
The secret mission they must pursue will lead them into the desert and the lair of the fearsome Assassins. And meanwhile Saladin's clever tactics in battle, including the butchery of the magnificent destriers, the massive horses that carry armoured Frankish knights, bring reversals to the Christian cause from start of the Crusade.But it is Richard the Lionheart's treachery and deceit that convince both cousins that the Crusade is a sham, and that all men are venal and greedy, driven by the lust for power.
Only their knowledge of the Order of Sion saves them from despair: their secret mission becomes more vital than ever before.This glorious epic tells the true and truly astonishing story of the Knights of the Black and White.
Information
Format: Paperback
Pages: 400 pages
Publisher: HarperCollins Publishers
Publication Date: 01/03/2008
Category: Historical fiction
ISBN: 9780007207473
Free Home Delivery
on all orders
Pick up orders
from local bookshops
Reviews
Showing 1 - 1 of 1 reviews.
Review by Glorybe1
16/06/2015
I really enjoy anything that Jack Whyte writes, maybe a little biased here!This is about the Knights of the Temple, fighting in Jeruselem in the time of Richard the Lionheart.Some very good characters that are easy to identify with and just enough adventure to keep the action moving along.Maybe not be quite as good as The Camulod series by the same author, but just as well researched and written.I really enjoyed it and look forward to the 3rd and final book in the trilogy.