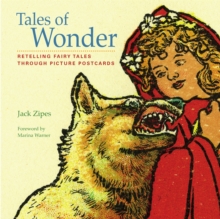 Tales of Wonder : Retelling Fairy Tales Through Picture Postcards
Hardback
Description
The most familiar fairy tales call to mind certain images: Little Red Riding Hood, Puss in Boots, Snow White, Cinderella, Rapunzel, Sleeping Beauty.
Yet these visions often merely reflect illustrations encountered in classic tellings of the tales.
The postcards gathered here by one of the world's foremost scholars of folk and fairy tales tell another story-of the remarkable range of interpretations and reimaginings these tales have inspired, captured, and conveyed picture by picture in this singular form.
A pictorial history of fairy-tale postcards from the late nineteenth century to the present, Tales of Wonder presents a fascinating look at how key scenes of fairy tales have been rendered over time, suggesting a rethinking and reliving of the tales through the years.Drawn from the author's collection of more than three thousand fairy-tale postcards from around the world, these five hundred beautiful illustrations reproduce oil paintings, watercolors, photographs, ink drawings, and silhouettes-all evincing the myriad ways popular artists and their audiences have reimagined these tales.
After an introduction and general history of fairy tales in postcards, the book features Jack Zipes's own translations of the most classical fairy tales in Europe and the United States, including versions by Charles Perrault and by Brothers Grimm.The fairy tale is not just once upon a time: it is, as fairy-tale postcard, a particular if not peculiar expression of a time, created by talented artists and innovative publishing companies.
Tales of Wonder tells this intriguing history of the postcards as well as providing new perspectives on familiar stories.
Free Home Delivery
on all orders
Pick up orders
from local bookshops