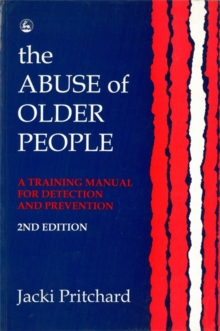 The Abuse of Older People : A Training Manual for Detection and Prevention
Paperback / softback
Description
This book has certainly stood the test of time, and now in its second edition, it continues to hold its own in the under-researched and grossly underestimated world of elder abuse.
One of the main pleasures of the book is that it is written by an author who really understands the practicality of identifying, intervening and the continued support of the abused and the abuser from a multi-disciplinary perspective...
The layout is clear and highly user-friendly, and this clarity is reflected through the jargon-free choice of language...
What really sets the book apart from the others on the shelf is the exquisite way Pritchard uses situational analyses, vignettes and case studies to illustrate the essential skill needed by workers...
It is an essential reference for any practitioner working within the community or hospital setting where older people are encountered.'- Nursing Times'This well researched, informative book deals with a complex subject, but the author covers the issues thoroughly and manages to raise the reader's awareness of elder abuse ...
This book would be of use to anyone working with elderly people in a hospital or community setting.
Students would find it easy to understand and full of useful learning material.
The book is highly recommended to anyone working in this important area.'- Therapy Weekly'[The author's] reputation guarantees a large and diverse readership...
The uniqueness of this book comes in the second part.
The seven activities have combinations of learning objectives, learning activities, trainer activities, assessment, student activities and suggested reading...
Workers engaged in all forms of training will find this book an invaluable aid.'- Community Care'An ideal teaching and training resource for those with responsibility for providing health and social care services to older people.'- Age and Ageing'Pritchard's training manual is more readable than it sounds.
The first part contains five chapters discussing elder abuse which would provide a short overview for those new to the subject.
The second part of this training manual focuses on a wide range of exercises.'- Journal of Social Work Practice'This handbook addresses the problems and challenges facing domiciliary workers of all kinds and provides a training package that can realistically be offered to all agencies engaged in this field (social services and community care in particular).'- Abstracts in Social GerontologyThe second edition of this well-established book has been enlarged and completely updated and contains additional training exercises.
Based on extensive research and practical experience, the book is designed to be used by both professionals and students to enable them to develop the awareness and skills necessary to deal with the wide variety of issues involved.
The book has four main aims:* To define the abuse of older people* To raise the consciousness of the abuse* To develop skills in recognising the abuse* To develop skills in recognising the abuse
Information
Format: Paperback / softback
Pages: 208 pages
Publisher: Jessica Kingsley Publishers
Publication Date: 01/03/1995
Category: Care of the elderly
ISBN: 9781853023057
Free Home Delivery
on all orders
Pick up orders
from local bookshops