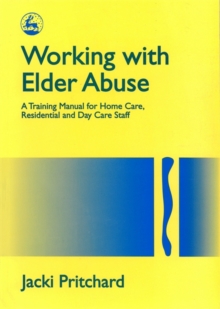 Working with Elder Abuse : A Training Manual for Home Care, Residential and Day Care Staff
Paperback / softback
Description
The author has specialised in working with adult abuse and the manual is set out in the way she recommends that training be presented.
There are chapters on older people, black and minority ethnic people and younger adults, as well as on investigations and case conferences.'- Nursing Standard'Working with Elder Abuse is a forthright and detailed training manual - the manual is a blend of theory, exercises, and further readings and it is anticipated that it will be used by staff trainers providing formal training as well as by supervisors who will work through it with their staff teams.
The manual is clearly written, practical and realistic without being condescending.
It clearly benefits from being written by someone who is herself a full time staff trainer on elder abuse and has tested and honed the suggested training materials through frequent use.
The emphasis on experiential learning, drawing upon the experience of the training participants and exploring attitudes as well as knowledge is evident.
This approach allows the potential user to feel comfortable with replicating the training modules and adpating them to fit other situations and content...
Working with Elder Abuse is an excellent training guide.
The care that has been taken in detailing all training steps, without burying the reader/trainee in duplicative content, makes one eager to utilize the manual immediately.
This manual belongs on every trainer's shelf. It can be used equally well both as a self-training guide and to train large groups, and offers much that can be adapted for use with other content areas.'- Journal of Teaching in Social Work'This book achieves its stated aim.
As a manual for use in training, it provides a wealth of well presented material that may be used by trainers who have a background knowledge in the field.
The material is presented in a logical and user friendly way.
It can be recommended to those who have to raise awareness of this issue among the staff groups in the title.'- Registered Homes'Pritchard (a well known and highly regarded contributor to the field) draws on her experience as a trainer to facilitate the empowerment of so called unqualified staff in confronting their own feelings when facing `victims and abusers'...
Of all writers on elder abuse, she is grounded in practicability, underpinned by a clear grasp of the training needs of front-line staff.
This handbook successfully integrates theory and exercises and should be on the shelves of all trainers.
It will be indispensable for staff groups.'- Community Care'This book pulls no punches.
It discusses sensitive issues, such as sexual abuse, frankly in everyday language and is essential reading for managers and assistants about abuse.
NVQ students will find it useful and NVQ assessment centres would be well advised to buy copies.'- Nursing Times'A welcome addition to the available texts on elder abuse.
Working with Elder Abuse by Jacki Pritchard is beautifully presented and easily accessible - large well spaced print, eye-catching headings, and interesting symbols signalling training tools such as handouts.
The language is clear and fluid.'- Action on Elder Abuse Bulletin'The language is clear and definitions and exercises are easy to understand.
The text is well laid out, and there is a lack of jargon -This will be a very helpful book for all who are concerned about elder abuse and should contribute towards the reduction of such abuse in the future as well as giving confidence to trainers, managers, care staff and all who are involved in care of the elderly.'- Christian Council on Ageing'Jacki Pritchard has produced a valuable addition to the training literature...
For the beginner, this book is highly recommended.'- Baseline`The training manual is long overdue.
The A4 format of the book and the permission to photocopy certain pages as handouts is very welcome...
Residential and day-care issues are well covered with plenty of exercises...
The straightforward language and the way that practical issues are addressed is effective...
The manual is an excellent resource which managers, supervisors and trainers will find invaluable.'- Ageing and SocietyThis practical training manual is written for home care, residential and day care staff, who need to be able to recognise elder abuse, but may not be trained to do so.
Its large format, range of exercises and photocopiable worksheets makes it a valuable source of training material not only for training teams, but also for managers who train staff and teams on site. Each chapter contains exercises, a reading list and a simple discussion of the theory behind each of the key areas covered by the manual.
These include:defining elder abuserecognizing elder abusewhat to do when working with elder abusecase conferenceslong term work with victims and abusersabuse in institutionsissues for managerscase studies
Information
Format: Paperback / softback
Pages: 196 pages
Publisher: Jessica Kingsley Publishers
Publication Date: 01/08/1996
Category: Violence in society
ISBN: 9781853024184
Free Home Delivery
on all orders
Pick up orders
from local bookshops