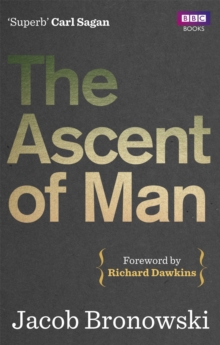 The Ascent of Man
Paperback
Description
Dr Jacob Bronowksi's "The Ascent of Man" traces the development of human society through our understanding of science.
First published in 1973 to accompany the groundbreaking BBC television series, it is considered one of the first works of 'popular science', illuminating the historical and social context of scientific development for a generation of readers.
In his highly accessible style, Dr Bronowski discusses human invention from the flint tool to geometry, agriculture to genetics, and from alchemy to the theory of relativity, showing how they all are expressions of our ability to understand and control nature.
In this new paperback edition, "The Ascent of Man" inspires, influences and informs as profoundly as ever.
Information
Format: Paperback
Pages: 352 pages
Publisher: Ebury Publishing
Publication Date: 10/03/2011
Category: History of science
ISBN: 9781849901154
Free Home Delivery
on all orders
Pick up orders
from local bookshops
Reviews
Showing 1 - 2 of 2 reviews.
Review by Novak
16/06/2015
J. Bronowski's<i> The Ascent of Man,</i> what a wonderful piece of work. If my library caught fire this is the book I would grab, if I could, as I ran out.
Review by Eyejaybee
27/08/2015
The late 1960s and early 1970s saw the rise of the blockbuster documentary series, such as 'The World at War', with Laurence Olivier's chilling narration, 'Alistair Cooke's America' and 'Civilisation', presented by Lord Kenneth Clark (father of the scurrilous diarist, Alan Clark). Professor Jacob Bronowski, renowned principally as an academic mathematician, conceived his own series, 'The Ascent of Man' as a match for Clark's 'Civilisation', presenting the development of human understanding and application of science.The book is an almost verbatim transcription of Bronowski's series which was notable for his clear, readily accessible explanations of seminal moments in the history of scientific progress right from the earliest exploits of primeval man, through to theoretical physics and the commencement of the exploration of space. Even more impressive was the fact that most of Bronowski's eloquent disquisitions were entirely unscripted.Though his own discipline was that of mathematics, Bronowski displays an enviable ability to convey complicated subjects in a manner understood by the layman. He is not reluctant to take on some of the more complex and daunting subjects, but he manages to render even Einstein's theories of relativity into a sufficiently digestible form.He shows great sensitivity throughout building each chapter through a series of simple, logical steps to give a concise history of the development of a different aspect of modern science. The book was published more than forty years ago, so the frontiers of research in each discipline have been pushed to lengths that Bronowski could not have foreseen. His book, however, remains surprisingly current because he focuses on scientific methodology and trends in innovative thought, all portrayed with a compelling directness and simplicity.