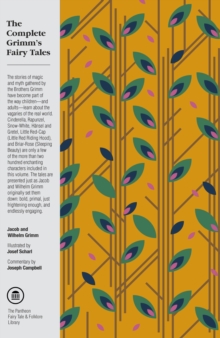 The Complete Grimm's Fairy Tales
Paperback
Information
Format: Paperback
Pages: 880 pages, 1 Illustrations, unspecified
Publisher: Random House USA Inc
Publication Date: 12/09/1976
Category: Folklore, myths & legends
ISBN: 9780394709307
Other Formats
Paperback from £5.62
Hardback from £7.55
EPUB from £13.46
Free Home Delivery
on all orders
Pick up orders
from local bookshops
Reviews
Showing 1 - 5 of 11 reviews.
Previous | Next
Review by comfypants
16/06/2015
I guess I'm glad I read it, but it was a chore. For every good story, there are twenty near-unreadable messes.
Review by arelenriel
16/06/2015
I loved these stories but they are definitely not intended for children. They were also more than a bi moralistic especially for Europe during the times of the Enlightenment
Review by aethercowboy
16/06/2015
I have a confession to make: I find it more convenient to acquire the collected works of an author long after they're dead. That gives the experts plenty of time to wage their wars on authenticity, and translators the time to properly translate all the ancient idioms into today's slang, and so forth.Now, I don't wish any authors dead, as I'd rather they generate as much work as possible before I finish collecting it, but I just love it when I can get a copy of EVERY JOT AND TITTLE BY AUTHOR A, so I don't have to have too many books on my shelf.Because of this quirk, The Complete Grimm's Fairy Tales is a wonder for me. Within this work, I discovered a very interesting thing that the Disney generation would probably miss: The fairy tales were not intended solely for children (and at times, probably weren't suitable for children), but were instead intended for the people. The children's stories, however, are not fairy tales, per se, but are more religious morality tales featuring Jesus or the Apostles.If you've been raised on Disney and colorful picture books, then reading the collected, uncut works may be a shock to you. They're pretty gruesome. And everybody had lice.But, within its pages, we have all the great tales: Rapunzel, Sleeping Beauty, Hansel and Gretel, Little Red Riding-Hood, and so forth. And unless you're a Grimm scholar, there will probably be a story in there that you've never heard of before.I would probably not recommend this book for your children. Other people's children, maybe, but not yours, unless you don't want to molly-coddle them until they're 36. But, don't give it to your children expecting it to be the brightly-colored, sanitized version of all your favorite fairy tales. It is, instead, the grim (was that pun intended?) tales as originally written, and well worth the read.
Review by MatthewHittinger
16/06/2015
Finally finished. I have lots of thoughts about these tales and their common motifs. Pretty much, if you have a stepmother, she's wicked and dabbles in witchcraft. Trials and events happen in threes. There's always a dress of the sun, a dress of the moon, and a dress of the stars that a beautiful maiden will exchange with a false bride so that she may sleep in the same chamber as her beloved, but the false bride will give the groom a sleeping potion so that he won't hear the beautiful maiden's story and remember who she is. Luckily the servants will inform the prince and all will be made well. The cleverest son is usually the one deemed stupid or daft. If you can slip from the skin of an animal, a form you are required to take by day, and someone steals the skin and burns it, then you are free from your curse and will remain human. And on and on. I learned many ways to cheat the devil, so that's handy. It was enjoyable to read the original, darker versions of the tales Disney "cleaned up" and to read the tales no one ever mentions, like "Allerleirauh" which in the German means "of many different kinds of fur." "The Bremen Town Musicians" and "The Master Thief" are two of my faves.
Review by KendraRenee
16/06/2015
I loved these stories! (Even with all the gruesome parts.) Very imaginative, albeit a bit repetitive if you read them all to close together. Still, in doses they're good bedtime reading to put oneself to sleep.