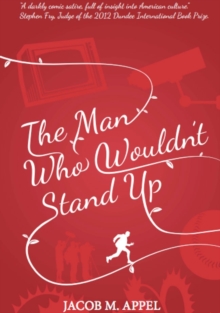 The Man Who Wouldn't Stand Up
Paperback
Description
From the acclaimed author of "The Biology of Luck"" comes a hilarious, Kafkaesque satireArnold Brinkman is a shy and retiring botanist; he loves his plants more than his country.
But when his refusal to stand for the national anthem at a baseball game causes a major media incident, he is thrown into a world of pushy patriots, preachers, and press. And it's not going to get any easier when he refuses to apologize.
A hilarious bullet into the heart of modern America, this novel mixes the literary sensibilities of Jonathan Franzen with the raucous satire of D.B.C.
Pierre, and was the recipient of the Dundee International Book Prize.
Information
Format: Paperback
Pages: 216 pages
Publisher: Freight Books
Publication Date: 23/10/2012
ISBN: 9781908885111
Free Home Delivery
on all orders
Pick up orders
from local bookshops
Reviews
Showing 1 - 3 of 3 reviews.
Review by HMJonesWrites
16/06/2015
Appel is a truly gifted writer, whose talent is very uncomfortable and unsatisfying. Like in The Biology of Luck, Appel creates characters who, though repulsive at times, are fascinating. Since reading Dickens' David Copperfield, I have rarely been so engrossed in the lives and going-ons of society's oddities. Bad reviews of Appel suggest that his characters are unlikable and his plots senseless, and they are, but not in a bad way.Appel's characters are honestly terrible sometimes, and so are many people, including myself, once in a while. Humans can be beastly, and so many humans flock to watch shows like CSI in which these perverse characters reveal their crazy in outrageous, "other" fashion. I think, in Appel's case, readers have a problem with the fact that the "bad" guys are not necessarily easy to distinguish from the normal guys. That all of his characters are, at times, both relatable and repulsive. And that is a unique, grey, much more interesting insight than what readers are spoon fed in so many stories.Little things, escalated by one's own actions or by the reactions of others, ruin the lives of seemingly 'normal' people all the time. Appel reveals an innate insanity in humanity that we all have heard, may have seen first hand or second hand, on the radio, in the news, etc. His characters make one question whether there is such a thing as 'normal,' or whether 'normal' is a societal construct. What's more is that he contrasts the insanity of an individual with the mob mentality (also a form of crazy), of those obsessed with the wrongness of another. There are so many layers to this dark comedy, and I do believe people mistake it if they do not read it as comedic, that I cannot do it justice in a review. I am so thrilled to have stumbled upon one of America's next great writers. Creeped out, disgusted and a little queasy, at times, but also thrilled. Which is what great literature can do to a reader.My Rating: Five of Five Defiant Tongue-Teasing Einsteins
Review by Judiex
27/08/2015
What's more important: Standing with the crowd for a song or standing for your principles? Arnold Brinkman, a quiet New York City botanist, took his nephew to a baseball game. Arnold did not like baseball but took him anyway as a special vacation treat. Things went along relatively normally until the crowd rose to sing God Bless America. For many reasons, Arnold didn't rise, raising the ire of the people seated near him. Soon he saw himself on the giant screen which had been scanning the crowd. The camera fixated on him and he eventually reacted by sticking out his tongue. As a result he became an instant sensation. Reporters and crowds gathered at his home condemning his action, calling him a traitor, and demanding an apology. Arnold refused to give it to them and found himself becoming the hottest news item for weeks. It drove him from his home and everyday routine, eventually hiding out with a $250,000 bounty on him.THE MAN WHO WOULDN'T STAND UP is a dark satire exploring how people react to someone who does not go along with their ethical or personal beliefs. While it is exaggerated, the book reminds us of the Salem Witch Trials, the confinement of Japanese in America during World War II, and the hunt for communists in the 1950s. Since then the victims are distinguished by race, religion, nationality, gender, sexual orientation or economic status.In a comical manner, the story encourages us to think about what we are capable of doing when confronted with someone with different standards and ideas and how we react to those actions. Does calling someone a terrorist make him one? Under what circumstances, if ever, should we capitulate? Can we make a difference?Jacob M. Appel has a wonderful command of words: "Arnold found the stadium claustrophobic. It was like riding in an airplane, only warmer–and accompanied by a hostile soundtrack." "But what I find most frustrating is the Bible-thumping, gun-slinging, sexually-repressed, intellectually-stunted and utterly backwards country of ours is that you can no longer sent live plants through the mail.""Just as the followers of Calvin had once measured their heavenly value in earthly goods, the Spitfords of the world used pain as a benchmark for human worth. The more they suffered, the happier they were.""Discretion is one of my two virtues....My other virtue is indiscretion."THE MAN WHO WOULDN'T STAND UP makes readers think about ourselves and our society while laughing and shaking our heads.I received a copy of this book from Goodreads First Reads.
Review by LorettaR
27/08/2015
Unique story line, interesting at first, but after a few chapters it started feeling like this story was too drawn out and much too long for my taste. Also, the idea that there would have been that much controversy over a man that did not stand up for a national anthem is unlikely in my opinion. Would of made a decent "short story"Please note: I received a free copy of this book in exchange for my honest review
Also by Jacob M. Appel