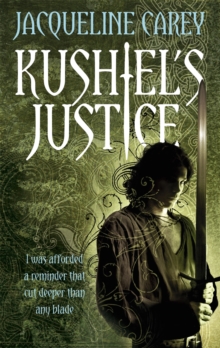 Kushiel's Justice : Treason's Heir: Book Two
Paperback
Description
Imriel, is third in line to the throne and a troubled scion of a dangerous bloodline.
In an effort to unite two lands he has been betrothed to Dorelei, an Alban princess, so he may beget future rulers of Alba.
Yet he cannot escape the illicit and dark passion he feels for Sidonie, queen-in-waiting of his homeland - and this will be used against him.
When Dorelei and her unborn son are betrayed and he is badly wounded, Imriel finds himself torn between his vow to avenge his wife and child and his desire to seek solace in Sidonie's arms.
This is a battle Alba's elders would see him loose, even if they must employ sinister forces to accomplish their ends. And treason and magic make murderous bedfellows.
Information
Format: Paperback
Pages: 736 pages
Publisher: Little, Brown Book Group
Publication Date: 04/09/2008
Category: Fantasy
ISBN: 9781841493626
Free Home Delivery
on all orders
Pick up orders
from local bookshops
Reviews
Showing 1 - 1 of 1 reviews.
Review by shanaqui
16/06/2015
Kushiel's Justice is the weakest of Jacqueline Carey's books that I've read so far, I think. I was enjoying it quite a lot, up to a point, and then somehow I just lost the urge to read it. Part of it is the unrelenting angst, and the fact that I don't love Imriel quite as much as I do Phèdre. I think the fact that it narrows down a lot from being events of massive importance to many people, to just being largely Imriel's personal journey, also makes it feel somewhat less urgent.<br/><br/>There's also a sense in which I felt that boxes were being ticked, because they had to be. Happiness, check, soured a little by some ominous event, check. A moment of calm before the storm, check, and then the storm, check. The beginnings of an epic adventure, check, setback, check, shipwreck, check. We've seen a lot of it before with Phèdre, so I'm not sure what's different about this, except that perhaps Imriel's reactions are usually more conventional than hers. He doesn't end up sleeping with people for insane reasons, mostly.<br/><br/>I did like a lot of the characters in this book. I expected to find Dorelei annoying, and then fell in love with and wanted to thwap Imriel for being self-absorbed. Some of the scenes when she's pregnant are incredibly sweet. I also enjoyed Berlik's character-arc, with his regret and his way to repent. Sidonie isn't so compelling a character -- she's rather like Ysandre, so she doesn't feel like a terribly new character. I was glad about what happened with Maslin -- that he and Imriel became close. It was an interesting end, for them.<br/><br/>Overall, though, I didn't enjoy this book as much and got bogged down with it for a long time. I still think it was enjoyable, and a worthwhile part of the series, but it felt a little weak. I hope the third book picks up again.
Also in the Treason's Heir series | View all