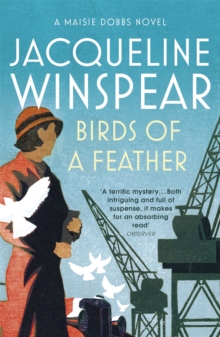 Birds of a Feather
Paperback
Description
London, 1929. Joseph Waite is a man who knows what he wants. With his Havana cigars and Savile Row suits, he is one of Britain's wealthiest men. And the last thing he needs is a scandal. When his eighteen-year-old daughter runs away from home, he is determined to keep the case away from the police and the newspapers.
So he turns to a woman renowned for her discretion and investigative powers - the extraordinary Maisie Dobbs. Maisie soon discovers that there are many reasons why Charlotte might have left home.
Instinctively Maisie feels that Charlotte is safe. Yet, suddenly, she finds herself confronting a murder scene...With wonderful characters and a page-turning plot, Birds of a Feather is a brilliant mystery.
Fans of Maisie Dobbs will be delighted to see Maisie's sleuthing abilities back in action, while the emotional heart of her second mystery will appeal to yet more fans.
Information
Format: Paperback
Pages: 320 pages, n/a
Publisher: Hodder & Stoughton General Division
Publication Date: 13/02/2006
ISBN: 9780719566240
Free Home Delivery
on all orders
Pick up orders
from local bookshops
Reviews
Showing 1 - 3 of 3 reviews.
Review by wyvernfriend
16/06/2015
While parts of this inter-war story are a little modern I still enjoyed it. Maisie Dobbs is an interesting character and the aftermath of World War I are tackled her. Including such issues as addiction and the White Feather Society. When the daughter of a self-made man goes missing, Maisie investigates, what she finds is very complicated and very interesting. There were moments where it did drag a little and I was unimpressed with some of the attitudes but still I found it quite enjoyable.
Review by Lman
16/06/2015
With <i>Birds of a Feather</i>, I firmly believe this second instalment of Maisie Dobbs will appease those readers irked at the lesser emphasis on mystery in the first; crime holds a much greater sway in this story. However, happily for me, the historical and societal elements of the era are still at play, but better balanced amidst the action with possibly more delicacy, in my opinion at least, than in the first account. Once again, I was totally absorbed - there is an aspect to the writing conducive to me speeding through these books - and I greatly admire the ingenuity behind the title of the work! Placed a year after our first introduction, the beginning of this book finds Maisie with her business - 'M. Dobbs, Psychologist and Investigator' - consolidated and obviously successful, for she has relocated to a better neighbourhood; the improved premises and more pleasant environs decidedly advantageous in securing prospective clients. Hence she is summoned by the wealthy businessman, Joseph Waite, and engaged to locate his daughter, Charlotte, who has run away again; and to return her home regardless of the circumstances, while insisting on the utmost discretion in doing so. But when a close friend of Charlotte's is murdered, along with another from her past, plus a third committing suicide, Maisie's dependable radar is alerted to there being more to this case than an unhappy daughter simply fleeing from a domineering father. And once more the chilling legacy of the war raises its ugly head as Maisie, using her unfailing intuition and highly-wrought detective skills, races to find Charlotte, fearing she may also be at risk.There is no doubt that this next chapter in Maisie's life embraces a more customary approach to the genre, in the story-line, and in the general build of the book. And Jacqueline Winspear also attempts to address the areas of disquiet, mentioned by some (myself included) in regards to the previous book – though I am still unsure if successfully. Nevertheless, this is another engrossing read, embracing a clever construct by mixing historical facts, repellent attitudes and areas of bias, ignorance and unawareness (distasteful now, tenable at the time) within a cracking good murder mystery – or three! I learnt so much: about post-war drug addiction; about The Order of the White Feather; about ongoing family anguish, and the terrible decisions taken and devastating actions performed, all in the name of patriotism; and I was charmed, I despaired and I was royally entertained throughout. Finally, despite her potent intellect and notwithstanding her startling powers of deduction, Maisie is only now coming to terms with her own repressed emotional discord – though superbly capable at the "forensic science of the whole person", as her mentor and teacher aptly describes their profession, she needs to be whole herself, to thrive. I'm rather confident in a successful outcome…(Feb 1, 2009)
Review by riverwillow
16/06/2015
Although I love crime fiction what really fascinates me about these books is the research and the reminder that WWI destroyed a generation of lives. Maisie is also a compelling character.