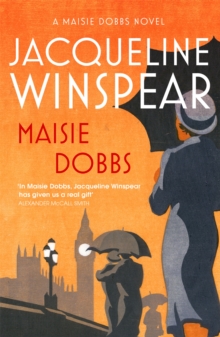 Description
Young, feisty Maisie Dobbs has recently set herself up as a private detective.
Such a move may not seem especially startling. But this is 1929, and Maisie is exceptional in many ways.Having started as a maid to the London aristocracy, studied her way to Cambridge and served as a nurse in the Great War, Maisie has wisdom, experience and understanding beyond her years.
Little does she realise the extent to which this strength of character is soon to be tested.
For her first case forces her to uncover secrets long buried, and to confront ghosts from her own past . . .In Maisie, Jacqueline Winspear has created a character that readers will immediately take to their hearts.
Her first case combines a gripping investigation with a moving portrait of love and loss.
It marks the beginning of a wonderful new detective series.
Information
Format: Paperback
Pages: 320 pages
Publisher: Hodder & Stoughton General Division
Publication Date: 07/02/2005
ISBN: 9780719566226
Free Home Delivery
on all orders
Pick up orders
from local bookshops
Reviews
Showing 1 - 5 of 9 reviews.
Previous | Next
Review by zina
16/06/2015
Great series - well-written, historically fascinating, intuitive and intelligent detective. Very satisfying.
Review by rennerra
16/06/2015
Interesting concept, female detective who had been a nurse in WWI. Since I love WWI, I love the historical details. Not so hot about the mystery. She's a rather detached type of person, I found her hard to get emotionally attached to. She's just a little too perfect to warm up to.
The NYT says "be prepared to be astonished," which may be laying it on a bit thick. OTOH, it is astonishing any time you find a book that truly explores new ground as this one does. JW's heroine Maisie is fascinating: a detective moved as much to understand people and their motivations as their crimes. This first book, which I heard I should read first, suffered a little from trying to include both Maisie's history and a complete mystery; the result was a bit lumpy. But it did serve to introduce all the characters who presumably will return in following books.I did love, as apparantly do many other readers, this vehicle for "seeing" 20's and 30's England as well as remembering the Great War. I always prefer to receive my history lessons when they're buried in captivating fiction. This book is somewhere between a cozy, women's fiction, and historical fiction, and the fit is nice.
Review by lizhawk
16/06/2015
I like this series a lot. Easy and engaging.
Review by kambrogi
16/06/2015
Getting to know Maisie Dobbs is a real treat. You will find yourself in London, ten years after The Great War, where you'll see the streets, motorcars, homes, clothing and most of all Maisie herself as though looking at old, but very clear, photographs. Maisie is just establishing her first solo detective agency after extensive training under the retired master Maurice Blanche. She is prepared to offer her special psychic and psychological insights along with her other investigative skills, and will soon take on a new assistant in the person of Billy Beale: war veteran, fixit man, and sapper <i>extraordinaire</i>. Maisie's first case requires her to follow a young wife who disappears from home twice a week, however the mystery takes Maisie back to the past – both hers and the young lady's. Maisie served as a Red Cross nurse in France, where she lost her heart and a great deal more. The story peels away layer after layer of her backstory as she parses the mystery she has been hired to solve. Maisie is a very special young woman, and the author has done an exceptional job of writing a murder mystery that is far more than the sum of its parts. I can't wait to dig into Maisie's next adventure in <i>Birds of a Feather</i>.