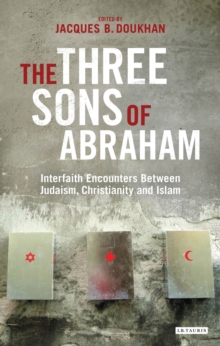 The Three Sons of Abraham : Interfaith Encounters Between Judaism, Christianity and Islam
Hardback
Description
Jews, Christians and Muslims all trace their history and spiritual raison d'etre to their common tribal ancestor, Abraham.
Their religious identities are interrelated and even dependent on each other.
Jesus lived as a Jew and Christianity was born in the heart of Judaism.
Early Christianity was inherently Jewish, referring to the same scriptures-the Tanach, later called the "Old Testament"-and holding to the same messianic promises.
Mohammed, the prophet of Islam, knew both Christianity and Judaism.
The Qur'an contains material indebted to the Old Testament and Jewish tradition, as well as stories and teachings from the New Testament; and Mohammed himself met Jews and Christians alike during his lifetime.
Furthermore, the three religions share many fundamental ideas and beliefs.
They testify to the same memory of Abraham; value the same divine law; urge the same ideal of righteousness; and proclaim the same hope of peace for the earth and salvation for humankind. Despite this shared heritage, the three Abrahamic faiths have sometimes been more closely identified not for what they offer to save the world but for what they bring to destabilise it. It is one of the depressing paradoxes of religion- supposedly a force for good-that it is all too frequently the occasion for conflict instead of peace, generosity and better treatment of one's neighbor.
The contributors to this volume start from the premise that there is a price to be paid by the "sons of Abraham": whether Jews, Muslims or Christians. And that is the cost of learning how to be brothers through mutual and attentive engagement.
Mature interfaith discussion offers respect for a shared heritage while also recognising points of distinctiveness.
This book explores what articulating such regardful difference, as well as commonality, might mean for the future of faith relations.
Including provocative reflections by Elie Wiesel, Irving Greenberg, Hans Kung and others, the book makes a vital contribution to dialogue.
In its searching analysis of issues of peace, justice, hope and forgiveness, it will engage all students and scholars of interfaith studies.
Information
Format: Hardback
Pages: 256 pages
Publisher: I.B. Tauris & Co. Ltd.
Publication Date: 18/12/2013
Category: Interfaith relations
ISBN: 9781780767437
Free Home Delivery
on all orders
Pick up orders
from local bookshops