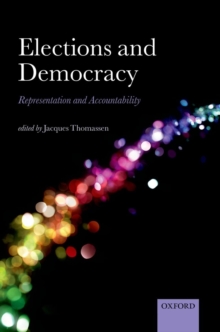 Elections and Democracy : Representation and Accountability
Hardback
Description
Elections and Democracy addresses the contrast between two different views on representative democracy.
According to the first view elections are a mechanism to hold government accountable.
In the second view elections are primarily a means to ensure that citizens' views and interests are properly represented in the democratic process.
The majoritarian and consensus models of democracy are the embodiment in institutional structures of these two differentviews of democracy.
In the majoritarian view the single most important function of an election is the selection of a government.
The concentration of power in the hands of an elected majority government makes it accountable to the people. In consensus models of democracy, or proportional systems, the majorfunction of elections is to elect the members of parliament who together should be as representative as possible of the electorate as a whole.
The criterion for the democratic quality of the system is how representative parliament really is. The book explores how far these different views and their embodiment in institutional structures influence vote choice, political participation and satisfaction with the functioning of democracy.
The volume is based on data from the Comparative Study ofElectoral Systems (CSES), a comparative study across 36 countries.
The general conclusion of the book is that formal political institutions are less relevant for people's attitudes and behavior than often presumed.
Rather than formal political institutions like the electoral system it seems to becharacteristics of the party system like polarization and the clarity of responsibility that really matter. The Comparative Study of Electoral Systems (CSES) is a collaborative program of research among election study teams from around the world.
Participating countries include a common module of survey questions in their post-election studies.
The resulting data are deposited along with voting, demographic, district, and macro variables.
The studies are then merged into a single, free, public dataset for use in comparative study and cross-level analysis. The set of volumes in this series is basedon these CSES modules, and the volumes address the key theoretical issues and empirical debates in the study of elections and representative democracy.
Some of the volumes will be organized around the theoretical issues raised by a particular module, while others will be thematic in their focus.
Takentogether, these volumes will provide a rigorous and ongoing contribution to understanding the expansion and consolidation of democracy in the twenty-first century. Series editors: Hans-Dieter Klingemann and Ian McAllister
Information
Format: Hardback
Pages: 304 pages
Publisher: Oxford University Press
Publication Date: 03/07/2014
Category: Comparative politics
ISBN: 9780198716334
Free Home Delivery
on all orders
Pick up orders
from local bookshops
Also in the Comparative Study of Electoral Systems series | View all