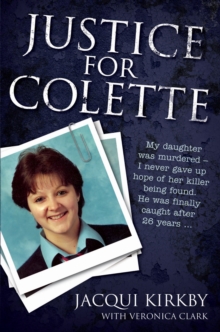 Justice for Colette : My Daughter Was Murdered - I Never Gave Up Hope of Her Killer Being Found. He Was Finally Caught After 26 Years.
Paperback
Description
On 30th October 1983, 16-year-old Colette Aram left the family home to walk to her boyfriend's house.
She never arrived. Her mother, Jacqui Kirkby, knew instinctively that something was very wrong and , the following morning, Colette's lifeless body was found dumped by a hedgerow, Jacqui's life would never be the same again. The investigation into the murder of Colette was to be one of the biggest manhunts ever launched by the police and, agonisingly for her loved ones, one which was to last more than a quarter of a century.
The murder of Colette was even the first case ever to appear on the BBC's Crimewatch show - it generated many leads but no conviction was forthcoming. Having evaded capture for so many years, Colette's killer was everntually caught thanks to a relatively new technique of DNA profiling - the chance arrest of his son for a minor motoring offence led cold-case detectives directly to Paul Hutchinson's door.
Finally, the killer was cornered.
Information
Format: Paperback
Pages: 288 pages, Illustrations (chiefly col.)
Publisher: John Blake Publishing Ltd
Publication Date: 01/01/2012
Category: Biography: general
ISBN: 9781843587613
Free Home Delivery
on all orders
Pick up orders
from local bookshops
Reviews
Showing 1 - 1 of 1 reviews.
Review by Marlene-NL
16/06/2015
A decent read. The story was very interesting and it grabbed me. One moment I tried to think how I would feel if something happened to my daughter and it made me feel so horrible, I had to quickly remove that thought. Really I think I would make sure that once the killer is caught i would kill him! Not caring if I have to spend my days in prison.(but I do not have other children to take care of) It made it so much more harder for the family for not knowing who had done the deed and thinking it was someone from the same town where they lived.<br/><br/>Just a few notes: There was a chapter where she met a physic. Not sure if that is the right word. Someone who could make contact with people that have passed. Things that she said were that Coleen knew the guy and stepped in his car, and there were other clues. I bookmarked them, thinking that once we knew who had done it, they would come true, but there was no follow up in the book.<br/><br/>I also think that the mum was sometimes a bit harsh to people, and I felt she neglected her son, but hey, I am not in her shoes so I do not know how I would react.<br/>Interesting read.