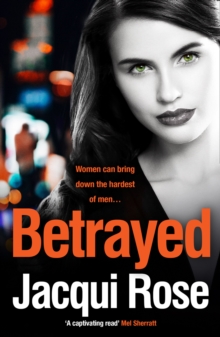 Description
A gripping story of gangs, drugs, girls and unbreakable bonds.
Perfect for fans of Martina Cole and Mandasue Heller.She trusted the man she loved.
It was the most dangerous thing she had ever done ...No one can touch Del Williams - the hardest gangster in Soho.
He's got the monopoly on the drugs, the clubs and the girls - it'd be a mistake to underestimate him.
The one person he'd take a bullet for is tough, beautiful Bunny Barker, mother of their daughter Star.Bunny is determined to shield Star from `life' but Del has a lot of enemies.
When a familiar face appears from their past, their family is put into terrible danger.
Can Bunny protect Star from the demons of her own past, and her very worst nightmare?
Information
Format: Paperback
Pages: 368 pages
Publisher: HarperCollins Publishers
Publication Date: 27/03/2014
Category: Crime & mystery
ISBN: 9780007503612
Other Formats
EPUB from £1.74
eAudiobook MP3 from £10.39
Free Home Delivery
on all orders
Pick up orders
from local bookshops
Reviews
Showing 1 - 2 of 2 reviews.
Review by samarnold1975
16/06/2015
I have previously read gangster Martine Cole style books but, I would not put it down as my favourite genre. However, this book has changed my perspective completely. This is an exceptionally well written story. The author has created strong dynamic characters who engage you. Through the book I really invested in these characters and wanted to know what happened to them. The skill of this author at creating characters is huge and she can create characters of all ages. As well as the adults she has created an excellent likeable child in Star who helps the story progress on. Star made me smile on several occasions. An author that can write both genders and all ages equally well is rare. The characters are not all exceptional human beings and Jacqui Rose shows the dark side of human personality as well as the good.The story is gripping and fast paced and the shorter chapters make you find yourself progressing through the book at a rapid speed eager to find out what happens next. The story itself has an excellent gripping start, good middle portion of story telling and a fantastic end. There is a twist through the book which some may guess but I certainly didn't. Morally the story deals with some quite disturbing aspects of life such as child abuse and abduction. You find yourself recognising these as the true villains of the story. It is only when you finish that you realise that you have turned drug dealers into the good guys when compared against the child abductors. This is a brilliant read which I thoroughly enjoyed I will certainly be looking for more from this author.
Review by shelleyraec
16/06/2015
Betrayed is the fourth standalone novel by Jacqui Rose, who gained noticed as a self published author and then was picked up by Harper Colin's Avon imprint.Del Williams owns the streets of Soho, running drugs, prostitutes and protection rackets alongside his legitimate businesses. Rich, powerful and ruthless, few are willing to make an enemy of him but even hard men have their weaknesses. Del's is his mistress, Bunny Barker, and their precious seven year old daughter, Star and when Del is betrayed by his allies it is they who will pay the price.I found Betrayed interesting because I haven't ever read anything quite like it before. It is set within London's criminal underworld where everyone operates outside the normal rules of society. Betrayed is a gritty novel without the patina of glamour usually ascribed to the gangland lifestyle. Rose portrays a brutal underworld aided by corrupt cops, greedy lawyers, violent intimidation and well greased wheels.Bunny didn't quite play the leading role I expected and I thought Del was the stronger and better developed character of the two. There are no real hero's, nor innocents in this novel. It is a little strange when you realise you are hoping the violent, drug dealing gangster will prevail, but in Betrayed the alternative is unimaginably worse.The pace of the story is good, as is the writing. It is quite visual in style and could be described as Eastenders meets The Soprano's. Some readers may struggle with the fairly graphic elements related to the victimisation of children, as well as the coarse language.The gangland crime fiction sub genre doesn't hold a lot of appeal for me in general but I liked Betrayal well enough. It was a fast read, and the plot and characters kept me interested for the length of the story.